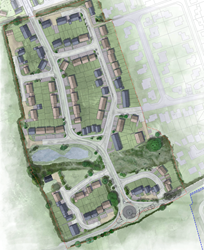 SOUTH MOLTON, North Devon (PRWEB UK) 22 November 2017
The land is currently in agricultural use, however following a period of planning promotion by Ashville and wider consultant team to the North Devon emerging Local Plan consultations, the land secured a draft allocation for residential development as part of a strategic urban extension to the town. With a draft allocation in place Ashville proceeded with the preparation and submission of an outline application for 144 dwellings with all matters reserved except for access.
The development is to deliver a number of strategic improvements for the town, such as completion of the first section of a bypass road circumnavigating the town centre and a number of the dwellings to be constructed are to be provided as affordable homes. With the Planning Officer's recommendation for approval, the application received a unanimous vote for approval by the wider Planning Committee Members when determined at a committee meeting in September 2017.