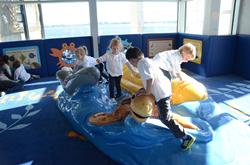 PNC believes that science is an integral part of early childhood development and that achievement in our community happens when we work together.
CHARLESTON, S.C. (PRWEB) November 17, 2017
The South Carolina Aquarium today announced an initiative with the PNC Foundation in support of the Aquarium's early learning program. PNC has committed a total of $225,000 to the South Carolina Aquarium Watershed Campaign since its launch in 2013 to support the Aquarium's Early Learning Initiative.
The multi-year grant will enhance the Rovers distance education program to reach toddlers throughout South Carolina and fund the installation of Kids Coast, a play-based learning area within the Aquarium. The grant will also support a series of on-site educational events for the Aquarium's youngest guests—preschool-aged children. PNC's support aligns with the mission of PNC Grow Up Great®, its $350 million, multi-year bilingual initiative in early childhood education.
The announcement came during a ceremony celebrating the completion of the first phase of Kids Coast. Kids Coast supports the learning and socialization needs of toddlers. The soft play-area's design encourages exploration with peers; promotes learning in a safe, family-friendly environment; and increases the Aquarium's capacity to provide learning opportunities to preschool children. The Aquarium and PNC will continue to expand Kids Coast in 2018.
"We are creating environmental stewards of the future," said Kevin Mills, South Carolina Aquarium president and CEO. "Now, thanks to this generous gift from PNC, we can reach children earlier than ever to start them down the path of caring for wildlife and wild places."
Additionally, the grant will fund the development of a monthly learning series, featuring books for toddlers read by PNC volunteers. Each event will focus on a different scientific theme and incorporate a sensory experience, such as an animal encounter, craft or movement exercise, and a literacy-based activity. The program also provides underserved preschool children in the region complimentary open-access opportunities.
"PNC believes that science is an integral part of early childhood development and that achievement in our community happens when we work together," said Jim Hansen, PNC regional president, Eastern Carolinas and Aquarium board member. "We are dedicated to working with organizations such as the South Carolina Aquarium to provide enriching opportunities for preschoolers to explore and discover the world around them."
PNC's initial support funded Aquarium Rover Programs that brought science education to early childcare centers throughout the state of South Carolina. The South Carolina Aquarium and PNC expect to reach 60,000 toddlers each year. Together, they will inspire the next generation of conservationists by connecting the community's youngest learners to water, wildlife and wild places.
PNC Foundation
The PNC Foundation, which receives its principal funding from The PNC Financial Services Group (http://www.pnc.com), actively supports organizations that provide services for the benefit of communities in which it has a significant presence. The foundation focuses its philanthropic mission on early childhood education and community and economic development, which includes the arts and culture. Through Grow Up Great, its signature cause that began in 2004, PNC has created a bilingual $350 million, multi-year initiative to help prepare children from birth to age 5 for success in school and life.
For more information, visit http://www.pncgrowupgreat.com.
About the South Carolina Aquarium
The South Carolina Aquarium, Charleston's most-visited attraction, features thousands of aquatic animals from river otters and sharks to loggerhead turtles in more than 60 exhibits representing the right biodiversity of South Carolina from the mountains to the sea. Dedicated to promoting education and conservation, the Aquarium presents sweeping views of the Charleston harbor along with interactive exhibits and programs for visitors of all ages.
The South Carolina Aquarium is a 501(c)(3) not-for-profit organization and is open daily from 9 a.m. to 5 p.m. The Aquarium is closed Thanksgiving Day, half day Dec. 24 (open 9 a.m. to 1 p.m.) and Dec. 25. Admission prices are: Toddlers (2 and under) free; Youth (3-12) $22.95; Adults (13+) $29.95. For more information, call (843) 577-FISH (3474), or visit scaquarium.org.