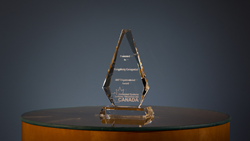 We support Unmanned Systems Canada's mandate to contribute not only to the growth of the industry, but to the improvement of standards and safety.
TORONTO (PRWEB) November 20, 2017
Kongsberg Geospatial was recognized as Canada's organization of the year at the annual Unmanned Systems Canada Conference on November 6th, 2017. The Awards Ceremony was the high point of the closing day at the 15th annual Unmanned Systems Conference held in Toronto last week. The occasion honored outstanding contributions made by individuals, organizations and students who display vision, hard work and dedication to the unmanned systems sector.
The Organizational Award recognizes a group or organization for contributing to the remarkable growth and prominence of the unmanned systems industry. It was presented to Paige Cutland on behalf of Kongsberg Geospatial, a geospatial technology company headquartered in Ottawa, Ontario. The company was selected for the award from among 140 qualifying organizations, and the award was given in recognition of Kongsberg Geospatial's contribution to Unmanned Traffic Management and drone safety for Beyond Visual Line-of-Sight (BVLOS) operations.
Kongsberg Geospatial produces real-time geospatial technology for the defense and civil aviation industries, and has provided technology for ground control stations for military drone programs like the US Navy Triton program for over two decades. For the past three years, Kongsberg Geospatial has been focusing on innovation for the commercial UAV market, and has introduced new products to help improve the safety of UAV operations, including IRIS UAS – an airspace awareness system developed to allow commercial drone pilots to safely operate UAVs beyond visual line-of-sight.
Kongsberg Geospatial is a member of the FAA ASSURE group, and has been working with civil aviation authorities like Transport Canada and the FAA to help develop guidelines and regulations for drone safety.
"We're very please this year to recognize Kongsberg Geospatial for their innovative work on spatial awareness for BVLOS flight operations," said Mark Aruja, Chairman of the Board for Unmanned Systems Canada. "Kongsberg Geospatial has demonstrated how to identify a new market opportunity and leverage their company's existing strengths to successfully develop and sell a new product, which in this case, will serve the benefit of the entire UAS industry."
Kongsberg Geospatial president, Ranald McGillis, said that the company is pleased with the recognition. "We're very happy that Unmanned Systems Canada has chosen to recognize us with this award," he said, "as a member organization of USC, we share their commitment to promoting unmanned aviation in Canada, and we support their mandate to contribute not only to the growth of the industry, but to the improvement of standards and safety."
More information about the company's research and development of drone-related technology, including their IRIS UAS system can be found on their website at https://www.kongsberggeospatial.com
ENDS ###
About Kongsberg Geospatial: Based in Ottawa, Canada, Kongsberg Geospatial (http://www.kongsberggeospatial.com) creates precision real-time software for mapping, geospatial visualization, and situational awareness. The Company's products are primarily deployed in solutions for air-traffic control, Command and Control, and air defense. Over nearly three decades of providing dependable performance under extreme conditions, Kongsberg Geospatial has become the leading geospatial technology provider for mission-critical applications where lives are on the line. Kongsberg Geospatial is a subsidiary of Kongsberg Defence Systems.
Media contact: 1-800-267-2626 or reach us by email at info@kongsberggeospatial.com