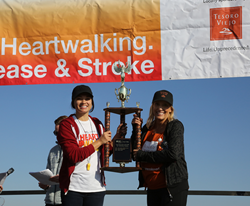 We are pleased to support the American Heart Association and commend the efforts of our team who demonstrated commitment to serving our community and the importance of giving back - Brent McCaffrey, president, Tesoro Viejo Development
MADERA COUNTY, Calif. (PRWEB) November 20, 2017
A team from Tesoro Viejo, an upcoming master-planned community in southeast Madera County, Calif., has raised more than $13,000 for the American Heart Association.
The Tesoro Viejo team raised $13,375, receiving the top team fundraising award for the Central Valley American Heart Association's 25th Annual Heart Walk. More than 2,500 area residents participated in the 2017 Heart Walk on Oct. 21, the largest local event for the association.
"We are pleased to support the American Heart Association and commend the efforts of our team who demonstrated commitment to serving our community and the importance of giving back," said Brent McCaffrey, president of Tesoro Viejo Development.
People of all ages participated in this year's Central Valley Heart Walk, which included the Lawyers Have Heart Run, a 5K run, and the Central Valley Heart & Stroke Walk, a two-mile walk. The event also included a health expo with booths on wellness, a kid's zone with family-fun activities and healthy snacks.
"The level of participation and support from the Tesoro Viejo team was so valuable to our fundraising efforts this year," said Kim Chapin, Business Development Director, Central Valley Heart Walk. "It's an honor to work with a company so committed to improving the health of our community — every year they continue to recruit more participants to join our Heart Walk, which has made them our top fundraising team."
Presented by Tesoro Viejo, the event exceeded last year's record-breaking total of $280,501 raised this year. All proceeds will go toward the American Heart Association's overall goal of funding research to find better ways to treat and prevent cardiovascular diseases and stroke while providing educational health resources to the local region.
"It is only fitting that Tesoro Viejo hosts the Heart Walk, as it has been thoughtfully planned as a healthy, sustainable community where residents can enjoy an enhanced quality of life focusing on health, wellness and vitality," McCaffrey said.
According to the American Heart Association, walking is the simplest positive change individuals can make to effectively improve their heart health because it's free, easy and has the lowest dropout rate of any exercise. Research has shown walking is the single most effective form of exercise to achieve heart health. The benefits of walking and moderate physical activity for as little as 30 minutes each day can help reduce the risk of heart disease and stroke — the No. 1 and No. 5 killers of Americans, respectively.
Tesoro Viejo is being developed in partnership by The McCaffrey Group and Lyles Diversified, two long-standing family organizations.
Situated at the foot of Little Table Mountain, Tesoro Viejo is an upcoming 1,600-acre master-planned community located off Highway 41 in Madera. A model of innovative design and sustainable living, the community will be a vibrant hub for southeast Madera County – where residents can live, work and play with housing and business opportunities, a walkable town center, green living, thriving industry and neighborhood parks and schools.
Overall grading and site improvements are under way at Tesoro Viejo in preparation for the start of home construction in spring 2018. For more information on Tesoro Viejo Development, visit http://www.tesoroviejo.com.