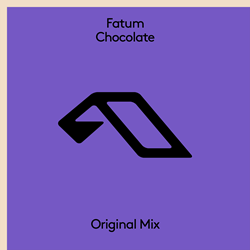 With a deep, molten sub-bass that swirls and pulses like scorching lava, 'Chocolate' is a thudding earthquake of a track, a force-of-nature so sublime it's pure cinema.
NEW YORK (PRWEB) November 24, 2017
Immediate. Incisive. Intense. The GRAMMY® nominated quartet, FATUM, knows how to craft progressive-trance music that's wickedly good. FATUM's "Chocolate" (Anjunabeats) is out now.
The intro of "Chocolate" is deliciously gooey, like sonic syrup pouring onto a series of low, menacing horns. The effect of minor-key chords is vaguely sinister and "Chocolate" is all the more irresistible because this tasty treat is a luxury. FATUM shows-off the group's expert studio skills by meticulously building layers into a forward-thrusting, self-sustaining track. FATUM holds the reins of churning aural seas while they ratchet up the pressure, until….boom! A drop so massive it's like jumping off a cliff. With a deep, molten sub-bass that swirls and pulses, "Chocolate" is a thudding earthquake of a track, a force-of-nature so sublime it's pure cinema. The track is the follow-up to FATUM's "Stained Glass," and "Chocolate" blends the group's gritty progressive sound with an memorable topline. When Above & Beyond debuted "Chocolate" at their ABGT (Above & Beyond Group Therapy) 250 show at The Gorge Ampitheater in Washington, the reaction was immense and instantaneous.
FATUM (pronounced "FATE-um") is the GRAMMY-nominated American electronic dance music act consisting of Chad Newbold, Bruce Karlsson, Daniel Davis and Bill Hamel established in 2014. With releases on leading record labels, Anjunabeats, Armada Music, Black Hole, Ultra Music, Big Beat/Atlantic and Ride, the group has made a considerable impact on the global dance music scene. With support from fellow artists, Calvin Harris, David Guetta, Armin van Buuren, Above & Beyond, The Chainsmokers, Kaskade, Markus Schulz, Ferry Corsten and others, FATUM has quickly established a toehold in the international dance music firmament. FATUM's remix of "Hold On" featuring singer/songwriter, Jes Brieden, earned the group a GRAMMY nomination at the 58th Annual GRAMMY Awards for "Best Remixed Recording, Non-Classical" in 2015. In 2017, FATUM's original song with vocalist Angel Taylor, "On My Own" (Armind), won in the category of "EDM" at the 8th annual Hollywood Music In Media Awards where the group performed in front of an A-list audience of the music industry's elite. As a live act, FATUM can be seen performing at major festivals and nightclubs. FATUM has performed live as part of Anjunabeats branded events including at Escapade Festival in Ottawa, Canada. The energy FATUM brings to its progressive-sounding music is undeniable.
Listen to the FATUM's "Chocolate," here: https://Anjunabeats.lnk.to/FC
For information on FATUM, Andrew Rayel, David Gravell, Mark Sixma, MaRLo, Ryan Farish, NOA | AON (Pavel Stuchlik), Paul Damixie, Price & Takis, Maro Music (Marek Walaszek), NIK:11, NativeOrigin303 and artists like Armin van Buuren, contact EMILY TAN Media Relations (U.S.), +1(917) 318-3758, EmilyEmilyTan@aol.com. Follow EMILY TAN Media Relations on Twitter @EmilyEmilyTan and LinkedIn http://www.linkedin.com/pub/emily-tan/4/342/70b.
# # #