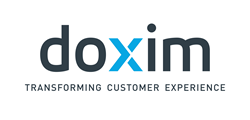 Lynn is a dynamic leader with deep industry knowledge, which makes her exactly the right person to head up our US sales team -- Mike Hennessy, Chief Revenue Officer, Doxim
Toronto, ON (PRWEB) November 21, 2017
Doxim (http://www.doxim.com), a leading provider of customer engagement software for financial service organizations, today announced the appointment of Lynn M. Kneebone as Vice President, US Sales. Kneebone's responsibilities will include leading inside and field sales teams within Doxim's expanding credit union business.
Kneebone brings over 20 years of leadership experience in community finance to her new role at Doxim. Her experience in sales strategy and execution, SaaS, ATM, credit and debit processing, prepaid, mobile/digital, market intelligence, data and analytics will make her both a valuable resource for rapidly-growing company, and a strong partner for its clients.
"Lynn is a dynamic leader with deep industry knowledge, which makes her exactly the right person to head up our US sales team," said Mike Hennessy, CRO of Doxim. "As the industry continues to evolve, we see tremendous opportunities for our omni-channel Customer Engagement Platform to help financial institutions digitize and transform their business and grow like never before. Lynn's market expertise, sales acumen, and ability to build strong relationships will be key to growing our presence as we continue expanding our business in the United States."
Prior to joining Doxim, Kneebone was most recently the Director of National Sales at CO-OP Financial, one of the largest credit union service organizations in the US. Under her strategic direction, Kneebone's high-performing team of Sales Representatives and Sales Engineers located across the country provided payments, mobile banking, ATM and marketing technology solutions to over 3,500 credit unions.
"Business process digitization represents a fantastic opportunity for banks and credit unions to reduce costs, increase operational efficiency, and grow by providing exceptional service," said Kneebone. "I'm excited to join Doxim's team of innovators as we partner with financial institutions to transform their customer engagement into a strong competitive differentiator. To make a genuine difference for clients, you need to think long term and serve their strategic needs in addition to solving their most pressing challenges with technology today. This philosophy is at the foundation of Doxim's mission in the market, and I'm very excited to lead a team of client advisors and brand ambassadors who are dedicated to helping build the future of our clients."
About Doxim
Doxim is a leading provider of SaaS-based customer engagement software for banks, credit unions, and wealth management firms. Doxim's Customer Engagement Platform helps financial institutions transform their client experience, communicate effectively throughout the client lifecycle and improve cross sell and upsell activities that drive increased wallet share. The platform addresses key digitization challenges, from automated account opening, through improved, personalized communications to anytime, anywhere content access, tailored to a client's channel preferences. This eliminates costly traditional paper-based, manual processes and enables cost-effective provision of an omni-channel experience that delights customers and improves their long-term loyalty. Find out more at http://www.doxim.com.