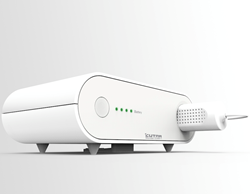 We cut paper with scissors. We make a hole in the wall with a drill. We cut wood with a saw. Then how do we cut plastic that is used so often?
Wilmington, DE (PRWEB) November 20, 2017
WonderCutter, a powerful handheld, ultrasonic cutter capable of cutting through plastic with ease, is live on global crowdfunding platform Kickstarter and trending fast having topped their $50,000 raise goal in only 5 days.
WonderCutter is a machine that easily cuts materials by lowering the coefficient of friction with 40,000 vibrations per second. While users can't see or feel the vibration, the handheld machine cuts materials with rapid oscillation in the same way water-drops are able to cut through a rock. 
"We cut paper with scissors. We make a hole in the wall with a drill. We cut wood with a saw. Then how do we cut plastic that is used so often?" asks CEO Juhyeon Kim. "For WonderCutter, cutting plastic is as easy as cutting cheese."
WonderCutter is perfect for the DIY-er and will be a useful tool for crafts makers, designers, architects and more who will be able to unlock the power of this tool and create like never before. WonderCutter is capable of delicate cuts and precision lines, all done with incredible accuracy and speed thanks to the powerful vibrations which maximize efficiency and minimize heating. The system is safe from amplitude control, over-power, over-voltage and over-current. 
With the WonderCutter, users can cut through various materials including plastic, leather, ABS, PCB, formex, chemical fiber, leather and more with ease. Thanks to rechargeable, built-in batteries there are no space constraints either, allowing the system to be taken on-the-go and used anywhere. The WonderCutter is incredibly lightweight, clocking in at only 680g and designed to be easily carried on the hip.
The WonderCutter also boasts a strong pedigree, having been proclaimed the winner of the Gold prize at the International Exhibition of Inventions of Geneva 2016, which is one of the top 3 International Exhibition of Inventions in the world.
"There is nothing like building and making things with your own hands that improves your self esteem and confidence. And it is the same for anyone regardless of your age, preference, whatsoever. My colleagues and I wanted to invent a safe and handy tool that allows everyone to use very easily," adds Kim. "The ultrasonic cutter is often used for making delicate cuts in industrial field such as cutting bumpers or smartphone cases. It is perfect for cutting, but its only problem is the price that goes up to million dollars. And I have come up with this question, 'what if we miniaturize these cutters and make something affordable and easy to use so that anybody can use?'"
The WonderCutter is currently live and available to support on Kickstarter: http://kck.st/2AEJfku
About WonderCutter
We are a small yet strong team comprised of highly talented and successful professionals who has decades of experiences in various fields. As a team, we share a common goal and it is to invite people to our journey of innovation and creativity.
For more information on WonderCutter please visit http://www.wondercutter.com
###