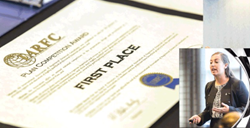 At the Biltmore you can attend your CE session, relax in the mountain setting and appreciate the splendor of a unique period of history...IARFC Chairman H. Stephen Bailey, MRFC.
MIDDLETOWN, Ohio (PRWEB) November 21, 2017
Presenters and topics include:

Ric Edelman, RFC® – Executive Chairman, Edelman Financial Services, LLC: The Truth About Your Future. (Keynote Speaker at Tuesday evening awards ceremony).
Max Bolka – Comprehensive Business Consulting on Comprehensive Legacy Planning.
Dr. Jeffrey Chiew, RFC® – Asia Chair: Financial Technology (Fintech) in Financial Planning.
Barry L. Dayley, CFP®, RFC® – Executive VP, Money Concepts International, Inc.: Ethics Program for Financial Planners.
Julie Davis-Friend – President/Creative Business Strategist, eFriend Marketing, LLC: Why Local Businesses Need to Give a Damn About Reputation Management.
Rick B. Stanzione, RFC® – CEO/President, R&R Group, Inc.: The List Book - a Financial Advisor's Best Friend.
Harlan Accola, RFC® – Fairway Independent Mortgage Corporate: A Reverse Mortgage Cinderella Story.
Roey Diefendorf, RFC® – CEO, 3 Dimensional Wealth Advisory: The Super ("Values Based") ILIT: Creating a Beneficiary Designation on Steroids.
IARFC Continuing Education credits will be applicable subject to attendance. Barry Dayley's Ethics Program fulfills IARFC and CFP® Ethics CE requirement. Varying credits will be available for CFP®, PACE, and state credits, depending on presenter registration.
Networking sessions and exhibitors connect the IARFC professionals. A welcome reception, awards banquet and in between breaks provide quality time to talk with consultants from across the U.S. and internationally.
The Finals of the IARFC National Financial Plan Competition are conducted during the conference with the top three students explaining their financial plans and competing for top honors. Experienced consultants become the "fictional family" who vote for the student consultant they wish to "hire" ultimately awarding them first place. "I have attended these finals," commented H. Stephen Bailey, MRFC IARFC Chairman. "They are fun, entertaining and definitely challenging for the students. I enjoy seeing them taking on a bit of real world experience in presenting their findings and trying to win over the judges."
The complete agenda, lodging and Biltmore estate guest tour information is available on the IARFC website. Download the registration form and send it into the IARFC. "It's not your ordinary big city convention-type visit," continues Bailey. "At the Biltmore you can attend your CE session, relax in the mountain setting and appreciate the splendor of a unique period of history."