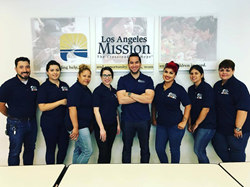 Give, and it will be given to you
LA VERNE, Calif. (PRWEB) November 21, 2017
Global Processing Systems (GPS) helped kids start their school year on a high note this year by sponsoring the Los Angeles Mission's End of Summer Block Party. GPS sent a group of employee volunteers to the event at 303 E. 5th Street in Los Angeles after presenting a donation of charitable contribution to the Los Angeles Mission that day.
The End of Summer Block Party is a fun-filled celebration that also prepares kids for school by giving them free backpacks, school supplies and other necessities. "The Los Angeles Mission appreciates Global Processing Systems for their support of the End of Summer Block Party" said Herb Smith, president of the Los Angeles Mission. "Global Processing Systems has partnered with the Mission for several years to help meet the nutritional and educational needs of the children of Skid Row with this great event."
GPS provided financial support for the event, and GPS employees handed out backpacks and coloring books, applied temporary tattoos, ran the game booths and served food to those most in need during the holiday school season. "The End of Summer Block Party is a special event for so many reasons, not the least of which is because we have the opportunity to make a lasting, positive impact on kids who have faced enough challenges to fill a lifetime," said Moses Heredia, President and CEO of Global Processing Systems, based in La Verne, California. "We are proud to partner with the Mission and support those families in need whom it serves."
"We are delighted to provide our sponsorship and support to the Los Angeles Mission and to its End of Summer Block Party this year," said Ashley Wang, VP of Operations at Global. "The Los Angeles Mission has been a pillar in the community and we thank the entire Los Angeles Mission team for the great work that they continue to do helping improve the lives of so many."
GPS has provided numerous donations in local charitable contributions to Los Angeles area nonprofits and employees devoted more than 800 volunteer hours in the area since 2013. The company has grown tremendously in California since 2008, doubling in size and the number of Californian's it employs. In Southern California alone, Global has over 150 bankcard consultants with nearly 700 nationwide.
About the Los Angeles Mission
For over 75 years, the Los Angeles Mission has served homeless and hurting men and women of downtown Los Angeles, providing emergency services such as shelter, food and clothing. In addition, the Los Angeles Mission also offers long-term residential rehabilitation programs, including education, job training, transitional housing and counseling. Go to http://www.losangelesmission.org for more information about the Los Angeles Mission.
About Global Processing Systems
Global Processing Systems is headquartered in La Verne, California with agent offices nationwide. The company operates offices nationwide and provides a comprehensive suite of payment processing services, as well as lines of credit to businesses and institutions nationwide. GPS and its employees are dedicated to improving the communities they serve, for which the company earned the 2013 LA Works Award, the highest honor bestowed on a company by United Way. Visit Global on the web at http://www.gprocessing.com
For more information or inquires please email: mediarelations(at)gprocessing(dot)com