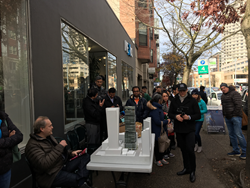 "It felt like Black Friday, except it was a Saturday and we were selling condos," said Dean Jones, President and CEO of Realogics Sotheby's International Realty.
SEATTLE (PRWEB) November 20, 2017
Representatives of Burrard Group and Realogics Sotheby's International Realty (RSIR) confirmed today that they have sold all 28 City Suites released at NEXUS Condominiums during the Encore Sales Event held on November 18th. Prospective buyers began forming a line at the NEXUS Sales Center at 4:30pm on Friday, November 18th – more than 18 hours prior to the doors opening at 11am the next morning. Initially, Burrard Group said it would offer 16 newly released homes located on floors 28 through 35, however prospective buyers that were patiently waiting in line learned of a special surprise release – an additional 12 City Suites on floors 3 through 6 were also made available. Overall, the 28 homes ranged in price from $340,950 to $667,950 and comprised of a mix of studios and urban one-bedroom floor plans varied from 354 sq. ft. to 498 sq. ft. The new offering was a result of disassembling a larger floor on the higher floors and making available studio units located in the above grade parking structure of the building, which will be accessed across the drive isle. Optional parking was sold for $75,000.
"It felt like Black Friday, except it was a Saturday and we were selling condos," said Dean Jones, President and CEO of Realogics Sotheby's International Realty. "We welcome our newest homebuyers to NEXUS. Our sales success demonstrates the pent-up demand for efficiently-scaled and attainably-priced new condominiums in downtown Seattle."
Jones points to anemic inventory at affordable price points in downtown Seattle. According to the Northwest Multiple Listing Service, just ten homes are currently listed for purchase below $700,000 in Seattle, which must satisfy an urban center of more than 70,000 residents. A resulting imbalance of supply and demand is evidenced by median home prices of resale condominiums surging 33-percent in October 2017 over the prior year. While 27,000 housing units are projected to deliver in downtown Seattle during the current decade, RSIR reports 94-percent of that new supply is built for rent and not for sale. Furthermore, 85-percent of the 496 new condominium units that are currently under construction with occupancy by 2020 are already presold. NEXUS is now 90-percent presold with remaining two and three-bedroom homes priced from $1.2 to $3.5 million. For more information, visit http://www.NEXUSseattle.com.
###
About Realogics Sotheby's International Realty (http://www.RSIR.com) - Artfully uniting extraordinary homes with extraordinary lives, Realogics Sotheby's International Realty is a leading global sales and marketing brokerage firm in the Pacific Northwest. Recognized by the Puget Sound Business Journal amongst the fastest-growing private companies in Washington State for 2012, 2013, 2014, 2015 and 2016 the boutique real estate firm of 225+ brokers consistently rank among the top producing firms within the markets that it serves with branches in downtown Seattle, Bainbridge Island, Kirkland, Issaquah and Madison Park.
About Burrard Group (http://www.Burrard.com) – The Burrard Group has been consistently creating quality residential communities for 25 years, and has built a diverse portfolio of master-planned communities, multi-family developments, high-end single-family residences and resort lodging properties throughout Pacific Rim gateway markets. In 2016, Burrard Group established offices in Seattle.
EDITOR'S NOTE: Property photos, event video and additional market statistics are available upon request.