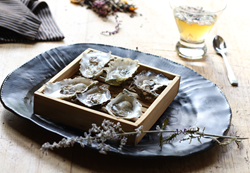 PORT ANGELES, Wash. (PRWEB) November 21, 2017
November is Native American Heritage Month, and the 24th a day set aside to pay tribute to the ancestry, traditions and contributions of Native Americans. What better way to celebrate this rich heritage than to enjoy some foods prepared in the style of the Native American Traditions, brought to you by Jamestown Seafood, a collaboration with the Jamestown S'Klallam tribe.
Native American Heritage Day was initially signed into legislation by President George W. Bush in 2008. In 2009, President Barack Obama stated, "I encourage every American to join me in observing Native American Heritage Day... It is also important for all of us to understand the rich culture, tradition, and history of Native Americans and their status today, and to appreciate the contributions that First Americans have made and will continue to make to our Nation."
In the Pacific Northwest, oysters have played a vital part in sustaining the Jamestown S'Klallam tribe for thousands of years, along with other shellfish, and wild foods. Drawing on their cultural and culinary heritage, Jamestown Seafood, a collaboration with the tribe, pays tribute to this day by bringing you a delicious and distinctive recipe featuring Sequim Bay oysters.
Based on the tribe's traditional practice of smoking oysters, berries and meats to preserve them, this recipe has been created using slightly more modern methods, that can be prepared and enjoyed in the comfort of your own home.
About the S'Klallam tribe
Known as 'the Strong People', the S'Klallam tribe has a rich culture of art, spirituality, traditional knowledge, and self-reliance that continues today. Having thrived on oysters, clams and other foraged wild produce to sustain them, the Tribe is now commercially farming oysters in partnership with Jamestown Seafood in the pristine Sequim Bay (pronounced "SKWIM" Bay) along the Strait of Juan de Fuca. In addition, they also operate a world-class oyster hatchery in Quilcene Bay.
These operations have enabled them to preserve an age-old industry and enrich the environment. No longer relying on the digging sticks and other tools that their ancestors required, Jamestown Seafood has commercially developed state-of-the-art tools and technologies to ensure consistent and sustainable harvests of Pacific Oysters (Crassostrea gigas) and Geoduck Clams.
A Historically, food was plentiful in the Coastal and Puget Sound regions for the tribes. Along with the vast quantities of seafood provided by the rivers, lakes, ocean and bays, the saltwater beaches also provided a wide variety of shellfish throughout the year, which were dug using a carved digging stick. Some of the clams, oysters, mussels, etc., would be smoked, usually in alder, dried and stored to be used or traded later. Nature also provided the tribe with an abundance of vegetable roots or bulbs such as salmonberry sprouts, camas, wapato, tiger lily, and fern and also many different types of berries.
Nowadays the region is still a rich agricultural growing region for herbs and other plants, including one of the countries' largest lavender farms, Purple Haze Organic Lavender Farm and the following recipe for smoking oysters in your home, brings in the terroir of the land with these ingredients.
So, smoke a few oysters, and pour some bubbles to toast the country's native heritage on November 24.
ABOUT JAMESTOWN SEAFOOD
Jamestown Seafood's oyster farm is nestled in the pristine waters of Sequim Bay (pronounced "skwim") along the Strait of Juan de Fuca and just before the entrance to the Puget Sound.
Recognising this watershed as distinctly different from the majority of oyster beds further along and deeper into the Puget Sound, the oyster industry is witnessing the emergence of something entirely new, distinctive and extremely delicious.
Oyster production begins at the company owned hatchery, embracing scientifically regulated and meticulously managed spawning and seed grow out procedures. Maintaining a watchful eye on their oyster beds throughout the maturation process, Jamestown Seafood enjoys harvests that are commercially viable, sustainable, consistent, and abundant.
Jamestown Seafood produces two varieties of Pacific Oysters (crassostrea gigas): Sequim Bay Jades (Beach Farmed), silky smooth, with unmistakable brine, subtle sweetness and a fresh cucumber finish, and Sequim Bay Blue Opals (Tumble Farmed) which are plump, juicy and succulent, display a clean ocean flavor accompanied by subtle sweetness and buttery texture.
The company also recognizes the delicate balance that must be maintained between a thriving watershed and an economically viable commercial fishery. Working in cooperation with local, state and federal agencies, and moving beyond shellfish that are commercially sustainable today, the company is exploring ways to restore once prized, and now depleted, indigenous species.
-----
MEDIA INQUIRIES - For more information about Jamestown Seafood or Sequim Bay Oysters, please visit the company website: http://www.jamestownseafood.com. All other media inquiries should be directed to Sally James on (707) 363-4577 or sally(at)studiospear.com.
Note for Television and Radio Stations: Sally James, Award-winning author and chef consultant for Jamestown Seafood, and Kurt Grinnell, tribe member and President, are available to demonstrate the dish and talk about Sequim Bay oysters.
TEA SMOKED SEQUIM BAY OYSTERS WITH LAVENDER
Sequim Bay is bursting with lavender and fresh herbs such as sage, tarragon, rosemary and thyme. We have used lavender and tarragon to bring you this succulent and smoky oyster recipe to celebrate the Jamestown S'Klallem tribe, our Native American Heritage and delectable Sequim Bay oysters. Enjoy their moist plump texture, with the aromatic smokiness of tea and lavender. The perfect day after Thanksgiving feast with a glass of bubbles!
12 opened Sequim Bay Jades or Blue Opals
For the Smoking Mixture
2 tablespoons Lapsang Souchong, Oolong or other fragrant black tea
2 tablespoons rice
1 tablespoons demerara sugar
peel from 1/2 orange
few stalks of lavender
Line a wok with 2 layers of aluminum foil, bringing it up over the edges. Make sure you have a secure fitting lid and an open window. Place the smoking mix ingredients on the foil in the wok. Place over medium high heat and allow to begin to smoke.
Meanwhile, place oysters on a steamer basket – just do a few at a time. Put the steamer in the smoking wok. Turn off the heat, cover with the steamer lid and let the smoke infuse the oysters for about 5 minutes. Repeat with remaining oysters. This method gives a caramelized, smoky flavor to the oysters.
Serve with Tarragon Lavender Mignonette.
TARRAGON LAVENDER MIGNONETTE
1/4 cup Champagne vinegar
1/4 teaspoon honey, optional
1 tablespoon minced shallot
1 teaspoon fresh chopped tarragon leaves
pinch ground pepper
pinch crushed lavender leaves
WHISK together the vinegar, honey, shallot, tarragon and pepper. Place in serving dish and sprinkle with the lavender leaves.
(if you can't find lavender leaves, use lavender honey, also made in Sequim Bay. The honey in this mignonette, makes a nice complement to the smoke flavor.)