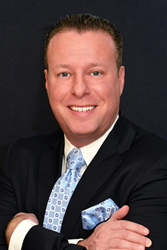 FORT LAUDERDALE, Fla. (PRWEB) November 21, 2017
Haute Residence welcomes prominent real estate agent, Barry Levinson to its invitation-only real estate network. As a Haute Residence partner, Levinson exclusively represents the high-end real estate market in Fort Lauderdale, Florida.
Known for his unmatched concierge-type services, Levinson has developed a global presence and a reputation as one of the most sought-after estate agents in Fort Lauderdale and the South Florida area. His integrity and dedication, privacy and discretion, cultivated over 15 years of experience, have earned him a loyal clientele. He represents very high-profile and ultra-high net worth individuals, A-list celebrities, and a host of international business leaders.
Levinson specializes in a variety of properties including Deep Water and Intracoastal properties accommodating large yachts and vessels, oceanfront trophy estates, and ultra-luxury condominium residences and penthouses. Recent noteworthy sales include the former residences of NBA stars and record-breaking penthouse sales in Fort Lauderdale for price per square foot for the type and style of units.
Levinson consistently ranks among the top agents not only in Florida but nationwide. He has repeatedly won the Gold Award at his company, BEX Realty in Fort Lauderdale.
About Haute Residence:
Designed as a partnership-driven luxury real estate portal, Haute Residence connects its affluent readers with top real estate professionals, while offering the latest in real estate news, showcasing the world's most extraordinary residences on the market and sharing expert advice from its knowledgeable and experienced real estate partners.
The invitation-only luxury real estate network, which partners with just one agent in every market, unites a distinguished collective of leading real estate agents and brokers and highlights the most extravagant properties in leading markets around the globe for affluent buyers, sellers, and real estate enthusiasts.
HauteResidence.com has grown to be the number one news source for million-dollar listings, high-end residential developments, celebrity real estate, and more.
Access all of this information and more by visiting: http://www.hauteresidence.com