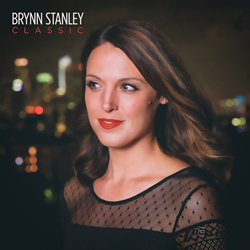 "I wanted to record an EP that transforms my listeners to a different era...when men used to wear suits and hats, romance was all around, and times were simpler. My hope is that they get lost in the music and feel like their life is an old classic movie with its own soundtrack." Brynn Stanley
LOS ANGELES (PRWEB) November 21, 2017
Indie vocalist Brynn Stanley has released her first EP called "Classic" which brings legendary and familiar songs in to her own smooth and soulful vocal style.
When asked about why she created the EP, she stated, "I wanted to record an EP that transforms my listeners to a different era...when men used to wear suits and hats, romance was all around, and times were simpler. My hope is that they get lost in the music and feel like their life is an old classic movie with its own soundtrack."
The tracks on "Classic" range from the Great American Songbook to the Beatles and the instrumentation varies from a small jazz ensemble to full big band to a lush string orchestra. The songs are Cole Porter's "Ev'ry Time We Say Goodbye"; "I Don't Know Enough About You" - a Peggy Lee original; a Beatles tune composed by John Lennon "I Should Have Known Better" a duet with Mario Jose; "Teach Me Tonight" a 1953 jazz standard that was also made famous by Al Jarreau, Amy Winehouse and Frank Sinatra; and lastly, "Isn't it Romantic" a song composed by Richard Rodgers, with lyrics by Lorenz Hart and introduced by Jeanette MacDonald and Maurice Chevalier in 1932 in the movie called, "Love Me Tonight." Other notable artists who have recorded this song include Tony Bennett and Rod Stewart.
The EP was engineered and co-produced by the talented Grammy and Emmy Award-nominated Jorge Vivo who has worked with Michael Buble, Andrea Bocelli, Celine Dion and David Foster. Co-producing the EP with Vivo is producer and jazz recording artist Tony Guerrero whose credits include Dick Van Dyke, Jane Lynch, Paul McCartney, and Freddie Hubbard. Guerrero also created all the arrangements; the EP was recorded in Los Angeles.
The EP was released in October; radio stations across the country are now playing "Classic" with positive reviews.
"Classic" is available on iTunes and Amazon (and all other digital platforms).
American singer-songwriter Peter Cincotti, praised Stanley about her musicianship saying, "Particularly when it comes to this style of music…Brynn has the kind of instincts and skills you can't teach."
"Classic" – Stanley's first EP is described as timeless, modern and vintage pop. Her sound is similar to Top 40 artists like Michael Buble, Diana Krall and Norah Jones.
"After a decade of Producers trying and failing to replicate pop-jazz success, Brynn proves that elegance comes only from the heart of the artist. Brynn casually presents the gold dust we've all been looking for." Rob Perkins - Renowned Drummer and CEO - ON THE BEAT MUSIC AGENCY said of her new EP.
Living bi-coastally, Stanley performs regularly in Los Angeles at venues such as the famous 'celebrity hotspot' Chateau Marmont, Hotel Café, The Mint, Vitello's and Room 5.
On the East Coast, she recently opened for artist Jordan Smith at the Mayo Performing Arts Center, The Metropolitan Room in New York City, and Shanghai Jazz in nearby downtown Madison.
Stanley has also performed with some of the industry's best musicians including guitarist Bucky Pizzarelli, drummer, Chris Steele (Michael Buble) and pianist, Tom Ranier (Tony Bennett).
Her performances continuously garner strong reviews from the press; some of them have been by the LA Times, The Star Ledger, OK! Magazine, and Star Magazine, just to name a few.
No matter what coast she is on, Stanley's range continues to expand with the mixing of original music into her performances.
Upcoming 2017 appearances:
November 30, at Bernard's Inn – 7:00pm in Bernardsville, NJ
December 3, at Shanghai Jazz – 6:00pm in Madison, NJ
December 15, at Gladstone Tavern – 7:00pm in Gladstone, NJ
December 23, at The Madison Hotel – 9:00pm in Florham Park, NJ
December 31, at Natirar New Year's Eve - 9:30pm in Gladstone, NJ
Stay connected with Brynn Stanley her website http://www.brynnstanley.com and social media on Facebook at @BrynnStanleyVocalist; Instagram at BrynnStanley and Twitter @BrynnStanley.
For media inquiries and interviews contact: Kelly Bennett, Bennett Unlimited PR, Kelly(at)BPUnlimited.com (949) 463-6383 http://www.BennettUnlimitedPR.com