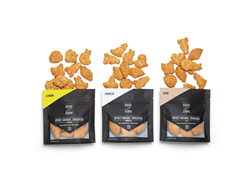 "We love being aligned with a brand like Peet's Coffee & Tea," said Good Zebra founder Erika Szychowski. "They have always been synonymous with quality--even as they've grown their brand. Something I strive for with Good Zebra."
CHICAGO (PRWEB) November 23, 2017
Fend off that mid-day blood sugar crash with Good Zebra—the world's first animal crackers made with 12 grams of protein and no refined sugars.
These tasty natural bites are now available at Peet's Coffee & Tea nationwide as an energy-boosting on-the-go snack or complement to a cup of coffee.
"We love being aligned with a brand like Peet's Coffee & Tea," said Good Zebra founder Erika Szychowski. "They have always been synonymous with quality--even as they've grown their brand. Something I strive for with Good Zebra."
Good Zebra aims to be as transparent in their ingredients and messaging as the animal it's named after—black and white and nothing shady.
Good Zebra's Good Stuff:
12 grams of protein per 2 ounce serving
NO refined sugar – sweetened with only organic honey and coconut sugar
All-natural with no artificial ingredients or preservatives
Responsibly sourced and Kosher ingredients
11 unique spirit animals inspired by street and tattoo art and each with its own message
Available in 3 satisfying flavors: Vanilla, Lemon, and Chai
Packaged in a re-sealable zip-top bag for snacking on-the-go or at the office
"Our key demographic is very similar to that of Peet's," said Szychowski. "These are smart folks who care about what goes into their bodies and support brands that have their best interests in mind. That's us."
In addition to being available at Peet's Coffee and Tea, Good Zebra can be purchased on their website as well as on Amazon.
About Good Zebra
Good Zebra is a woman-led brand fearlessly striking out to disrupt the snack food industry. Founder and CEO Erika Szychowski is a global branding authority that has worked with a diverse clientele base from The Rolling Stones to the Olympic Games. Her passion for baking and strong brand vision are helping bring these tasty protein bar alternatives to briefcases and backpacks across the nation.
For more information or media inquiries, Leah(at)chicexecs(dot)com.