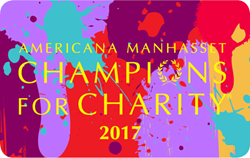 It's a magical time of year.
MANHASSET, N.Y. (PRWEB) November 21, 2017
Americana Manhasset's annual four-day charity holiday shopping benefit extraordinaire will take place Thursday, November 30 through Sunday, December 3. This fun-filled, philanthropic and collaborative event between Americana Manhasset boutiques and their patrons has raised over $10 million dollars for local and national charities since its inception.
"What sets this shopping benefit apart is the generous 25% pre-tax donation made to the shoppers' charity(s) of choice from a list of over 100 not-for-profit participating organizations," notes client and philanthropist Michele Cagner. "Champions for Charity has become the must attend holiday kick off for so many charities. Americana is the place to be …and to get all your holiday shopping done in one convenient location. My charity of choice, Sunrise Day Camp, has benefited greatly from our participation in this event."
During the four-day program, set amidst a beautiful display of holiday lights, a fabulous and festive atmosphere abounds and shoppers enjoy special in-store charity receptions. Among this year's highlights are personal appearances by designer Stacey Bendet, who will be at Alice & Olivia for a pre-Champions kick off meet-and-greet November 29 from 12-1pm. Anne Fontaine will visit her boutique to toast the season on Thursday, November 30. Other notable Americana boutique partnerships include Louis Vuitton with MedShare; Michael Kors with Crohn's and Colitis Foundation of America; Ralph Lauren welcomes a new charity, Belmont Child Care Association; London Jewelers is partnering with Smile Train, Hospice Care Network, Rescue Paw Foundation, Autism Speaks Long Island and Long Island Tourette Association and Hermès will also host multiple charities including UJA and Grenville Baker Boys & Girls Club. Check with your charity to see which store is hosting them for a reception.
A new facet to this year's activities is the addition of fun food trucks that will be stationed at the shopping center on Thursday and Saturday, offering complimentary treats. Sweet and savory delights from Crazy Cakes Cupcake Truck, Gorilla Cheese, Brooklyn Popcorn and Wafels & Dinges will be available at various times on a first come first serve basis. For a full schedule visit http://www.americanamanhasset.com.
To participate in Champions for Charity, simply register for your complimentary Champion Number online at championsforcharity.org (including on your mobile device), by phone at 800.818.6767, or in person at our Concierge office. Present your Champion Number between November 30-December 3 at the time of each purchase and 25% of your full-price, pre-tax purchases will be donated to the participating organization(s) of your choice. It's that easy!
Taking an active role in the community has always been an integral part Castagna Realty Retail Group's mission. Americana Manhasset was one of the first to embrace the concept of charity shopping and remains a leader by offering a significant 25% pre-tax donation to charity. "Now in its 22nd year, Champions for Charity is our hallmark holiday event that brings our community together," says Deirdre Costa Major, President, Castagna Realty Retail Group. "We strive to offer a fulfilling shopping experience and giving back is a significant way of making a difference."
All Americana Manhasset stores and select Wheatley Plaza stores participate in Champions for Charity. Located 17 miles east of Manhattan, Americana is home to over 60 leading fashion and lifestyle stores including Hermès, Chanel, Louis Vuitton, Hirshleifers, London Jewelers, Gucci, Dior, Bottega Veneta, Prada, Rolex, Ralph Lauren, Cartier, Fendi, Tiffany & Co., Salvatore Ferragamo, Christian Louboutin, Céline, Max Mara, Diane von Furstenberg, Tory Burch, Michael Kors Collection, Burberry, James Perse and more.
For information on Americana Manhasset and Champions for Charity, visit americanamanhasset.com and championsforcharity.org, and our Facebook page, and follow us on Twitter and Instagram @AmericanaShops.
"Both the exceptional customer service and esprit d'corp of our stores' managers and staff contribute to the success of Champions for Charity," says Ms. Major. "It's a magical time of year."