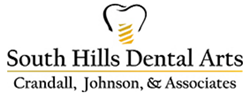 PITTSBURGH (PRWEB) November 21, 2017
New patients with smile imperfections or jaw pain are now welcome to receive dental implants in Pittsburgh, PA, and other full mouth reconstruction services from Drs. Steven Crandall, Karen Johnson and Kathy Lopez. Patients who receive full mouth reconstruction services often experience restored speaking and eating abilities and a complete, new smile. Smile reconstruction can help improve oral health and function and may include single or multiple dental implants, orthodontics, TMD (temporomandibular joint disorder) treatment and other services.
Patients with crooked teeth, multiple missing teeth or limited oral functions may benefit from full mouth reconstruction services. At South Hills Dental Arts patients can receive a comprehensive treatment plan and the treatments they need all in one location. Laser dentistry is used to treat frenectomies, gum disease and even gum recession. Orthodontics, TMD and dental implants can be combined to correct malocclusion and create a seamless, properly functioning smile. The primary goal shared by Drs. Crandall, Johnson and Lopez is to help improve the health, appearance and dental function of each patient.
Dental implants are highly recommended for most patients with tooth loss, because they do not rely on adjacent teeth for support and they do not need to be removed nightly to be cleaned. Most have high survival rate. As medical devices, they are subject to the same risks as natural teeth, such as medical and smoking status, oral hygiene practices and history of periodontal disease. Implant posts are surgically inserted into the jaw bone, then during a process referred to as osseointegration, the bone grows around each post. Once this process occurs, implants provide a stable foundation for a new crown, bridge, or full-arch prosthesis. Individual dental implants are a good solution for patients who have lost one or a few teeth, while All-on-4® dental implants and Teeth-in-a-Day® are more appropriate solutions for those with full arches of missing teeth.
Drs. Crandall, Johnson and Lopez warmly invite patients with crooked teeth, jaw pain, missing teeth and other oral symptoms to receive a consultation for orthodontics, TMD treatment, full mouth reconstruction or dental implants in Pittsburgh, PA. To schedule appointments, individuals are invited to call South Hills Dental Arts at 412-833-6166 to reach their Upper St. Clair office or 412-922-9292 for the Ingram Crafton office in Pittsburgh, PA.
About the Practice
South Hills Dental Arts offers individualized dental care to patients in the Upper St. Clair, PA and Pittsburgh, PA areas. Dr. Steven Crandall, Dr. Karen Johnson and Dr. Kathy Lopez offer experienced dental implant, TMJ, and Invisalign® treatments along with a wide variety of other services at their two office locations. The entire team at South Hills Dental Arts, understand the importance of learning the most cutting-edge treatment techniques to ensure each patient receives effective and comfortable treatment. To learn more about Dr. Crandall, Dr. Johnson and Dr. Lopez or the services they offer, please visit their website at http://www.southhillsdentalarts.com. To schedule an appointment at their Upper St. Clair office call 412-833-6166 or 412-922-9292 for the Ingram Crafton office location in Pittsburgh, PA.