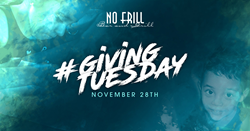 VIRGINIA BEACH, Va. (PRWEB) November 24, 2017
No Frill Bar and Grill's Laskin Road location will donate a percentage of lunch and dinner sales to ORPHANetwork's #GivingTuesday campaign on Tuesday, November 28th. This second annual partnership will continue to empower vulnerable children in Nicaragua to break cycles of poverty.
#GivingTuesday is a global giving movement driven by individuals, families, organizations, businesses and communities in all 50 states and in countries around the world. #GivingTuesday is the biggest giving day of the year worldwide; it follows Thanksgiving, Black Friday, Small Business Saturday, and Cyber Monday.
Simply by dining at No Frill Bar and Grill on #GivingTuesday, patrons will help provide educational resources, teacher salaries, and materials to support vulnerable Nicaraguan children served by ORPHANetwork's After School Education Program.
ORPHANetwork has partnered with businesses, families, friends, and individuals across the country who want to impact a child's future on #GivingTuesday to reach the campaign goal of $40,000 by November 28th. You can learn more about the campaign here: https://orphanetwork.org/givingtuesday/
More About No Frill Bar and Grill
During the month of November, the "local's favorite" restaurant is celebrating its 30th anniversary with 30 days of special deals during the entire month. Customers are enjoying special prices and giveaways from No Frill for the remaining days of the month - come out for Comfort Food Tuesday for a home-style dinner on November 28th. http://nofrillgrill.com/
More About ORPHANetwork
ORPHANetwork currently partners with more than 200 Local Church Initiatives in Nicaragua to break cycles of poverty through holistic care focused on health, education and job skills training for nearly 20,000 vulnerable children. Additionally, ORPHANetwork cares for 370 orphaned and abandoned children through partnerships with six child protection centers (orphanage homes) across Nicaragua. https://orphanetwork.org/