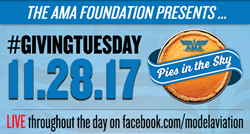 MUNCIE, Ind. (PRWEB) November 27, 2017
The Academy of Model Aeronautics (AMA) is participating in #GivingTuesday on November 28 as part of its goal to raise $225,000 for benevolent programs funded by the AMA Foundation.
#GivingTuesday is a global day of giving fueled by the power of social media and collaboration. Celebrated on the Tuesday following Thanksgiving (in the U.S.) and the widely recognized shopping events Black Friday and Cyber Monday, #GivingTuesday kicks off the charitable season, when many focus on their holiday and end-of-year giving.
AMA's campaign will be live on Facebook throughout the day. Staff members will be introduced to share what their 'slice of the pie' is at AMA. If $300 is raised during their hour they will take a pie to the face. AMA Executive Director Dave Mathewson and AMA Staff Director Joyce Hager will take a pie to the face if $2,000 is raised. Participating members of the Executive Council will take a pie if $2,500 is raised, and if our ultimate goal of $3,000 is reached, AMA President Rich Hanson will take a pie at 4 p.m Eastern Standard Time.
AMA will be posting live on social media and engaging its membership all day. Members are encouraged to watch to meet AMA staff members and give back.
For more information visit http://amablog.modelaircraft.org/amafoundation/givingtuesday/.