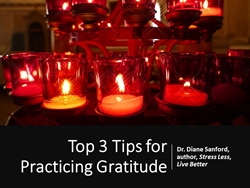 Mindfulness can help even during the stressful holiday season
AMARILLO, Texas (PRWEB) November 23, 2017
In honor of Thanksgiving Day, Praeclarus Press presents a new podcast from Dr. Diane Sanford, author of Stress Less, Live Better, on how mindfulness can help listeners be grateful for their lives even when stressed. Mindfulness is the basic human ability to be fully present, aware of where we are and what we're doing, and not overly reactive or overwhelmed by what's going on around us. Research studies have shown that regular practice of mindfulness reduces stress, depression, anxiety, physical tension, migraines, irritable bowel syndrome (IBS), and pain. These skills also increase health and well-being, and improve immune functioning.
Medical experts have noted that illness is often stress-related or stress-intensified. Decades of research that supports the validity for the mind-body connection suggest that in women, this connection may be particularly strong because of the ongoing interplay between their changing lives, moods, and bodies.
Mindfulness-based skills enable us to ease physical stress and tension. They have been shown to reduce mental distress and worry, relieve depression and anxiety, and improve immunity and mind-body health. They are the most effective and non-medicinal remedy to reducing stress that currently exists.
The holiday season is often stressful for families. Dr. Sanford suggests three strategies for using mindfulness to cultivate an attitude of gratitude over the holiday season.
Perform random acts of kindness daily. These acts can be small. Hold a door for someone. Smile at the clerk at a busy store. Express appreciation always.
Give thanks everyday for small blessings in your life, like cups of coffee and a hot shower.
Practice self-compassion. Take time for self-care and pay attention to negative self-talk and perfectionism.
The podcast, and Dr. Sanford's book, Stress Less, Live Better, are available at Praeclarus Press.com.
Praeclarus Press is a small press specializing in women's health based in Amarillo, Texas, founded by health psychologist, Dr. Kathleen Kendall-Tackett, Praeclarus Press features books, monographs, webinars, and podcasts with the aim of changing women's lives.