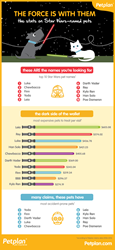 NEWTOWN SQUARE, Pa. (PRWEB) November 27, 2017
With Star Wars: The Last Jedi opening December 15, Petplan pet insurance dug deep into its Jedi database to find the most popular Star Wars-inspired pet names — and to see who is most injury prone and who racks up the highest bills.
"Pop culture references have always been a great source of pet names, and our policyholders seem to have a special affinity for the Star Wars franchise," says Natasha Ashton, co-founder and co-CEO of Petplan. "But it got us wondering: with all of these Star Wars names coming up in claims, was there some link between the dark side and pet health disasters?"
These Are the Names You're Looking For
Since the franchise continued its film saga in December of 2015, there's been a nearly 86% increase in protected pets named after the new Star Wars characters,* thanks mostly to the newest additions to the series.
Here's how some of the newer characters stack up since the release of Star Wars: The Force Awakens in December of 2015:
1. Finn
2. Kylo Ren
3. Rey
4. Poe Dameron
5. BB8*
Nothing tops the classics, though. The original Star Wars character names remain most popular among pet parents — but it hasn't stopped some new characters from breaking in to the top 10:
1. Luke
2. Chewbacca
3. Finn
4. Yoda
5. Leia
6. Darth Vader
7. Rey
8. Kylo Ren
9. Han Solo
10. Poe Dameron*
Many Claims, These Pets Have
So who was the most expensive to treat? And who was the busiest filing claims?
It looks like Rey's been getting into a lot of scrapes with The New Order. With an average emergency vet cost per visit of $574.02, she has the highest claims of the newest characters.*
However, Leia's average claim cost of $603.08 tops every character, new or old, making her unexpected trips to the vet the most expensive.* Meanwhile, poor Yoda's pet parents have filed the most claims,* which makes the aged Jedi Master the most injury-prone.
Here is the top 10 list by dollar amount (most expensive to treat per visit):
1. Leia - $603.08
2. Rey - $574.02
3. Luke - $436.78
4. Han Solo - $421.25
5. Chewbacca - $405.68
6. Darth Vader - $369.00
7. Yoda - $343.04
8. Finn - $319.34
9. BB8 - $296.37
10. Kylo Ren - $274.19*
Here's the top 10 list by total accidents (most injury-prone):
1. Yoda
2. Finn
3. Darth Vader
4. Luke
5. Chewbacca
6. Leia
7. Kylo Ren
8. Han Solo
9. Rey
10. Poe Dameron*
Only the future will tell whether the Star Wars pet connection will continue, but with The Last Jedi Opening in December, Ashton thinks the odds are good.
"Petplan is dedicated to helping every pet get the veterinary care they need — whether here or in a galaxy far, far away," says Ashton. "I'm expecting to see more pets named Snoke over the next year or so, which is fine with me. Even the naughtiest pets in the universe deserve protection."
*according to Petplan claims data 2006-2016
###
ABOUT PETPLAN
Petplan has built an industry-leading pet insurance policy for pet parents who demand a higher pedigree of care for their best friends. We've leveraged 40 years of global experience to create completely customizable coverage pet parents can feel confident in, and world-class claims service — 24 hours a day, every day.
Petplan's innovative approach to pet insurance has been recognized by Forbes, Financial Times, Bloomberg, Inc. magazine, Smart CEO, the Communicator Awards, Ernst & Young and many others.
Petplan policies are underwritten in the U.S. by AGCS Marine Insurance Company, a member of the Allianz Group (rated A+ A.M. Best), and XL Specialty Insurance Company; and in Canada by XL Specialty Insurance Company-Canadian Branch. XL Specialty Insurance Company is rated A+ by S&P as of 2017. Coverage may not be available in all jurisdictions. For more information about Petplan pet insurance, visit http://www.petplan.com or call 1-866-467-3875.