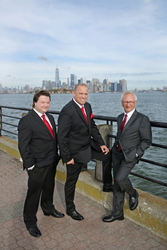 Thinking like a box!
ISELIN, N.J. (PRWEB) November 29, 2017
Taylored "Fulfillment" Services, is a national leader in distribution, fulfillment and warehousing headquartered in Iselin, New Jersey. Established in NJ in 1992, Taylored Services is celebrating our 25th Anniversary. What started as a small packaging service business, has risen up to stand tall amongst the best service providers in the United States.
Taylored's distribution centers are strategically located near the nation's busiest ports of Los Angeles, Long Beach and New York. Taylored Services continually invests in its IT infrastructure to stay ahead of the many demands placed on wholesale and retail apparel companies in today's market. To achieve an efficient distribution solution, Taylored develops strategic partnerships with our customers, our WMS and EDI providers and the integrators that install their automated solutions.
Over the years, Taylored has been honored with numerous achievements and accomplishments, none more exciting as being acknowledged by the industry as a TOP 100 3PL, three (3) years in a row.
"Without the support of our loyal customers, Taylored would never have been able to grow to this size. We are truly grateful to our customers who have entrusted us with getting their product to market. Without our customer's service demands, challenges of retail and passionate feedback we would not have pushed ourselves to get better and improve on a continuous basis. Our success as a company would not have occurred without the support of our valued customers," says Taylored CEO Jim DeVeau.
Taylored Services does not want to just be your warehouse, we desire to be a strategic partner and critical component of your supply chain.