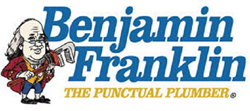 We like to say that clogged drains have met their match with us.
WICHITA, Kan. (PRWEB) November 24, 2017
Wichita's leading drain service and plumber, Ben Franklin Plumbing, is proud to announce a new update to its "drain service" page. Central Kansas residents requiring support for drain unclogging, sewer line repair and other plumbing issues can review informational details on the newly updated page on one of the most common plumbing problems, a clogged drain. Residents of Derby, Andover and Haysville may also find answers to difficult plumbing emergencies as the Wichita company also services their communities.
"We like to say that clogged drains have met their match with us," explained Jason Clark, Manager of Ben Franklin Plumbing of Wichita, Kansas. "We find holidays like Thanksgiving, Christmas, and Hanukkah test our motto. Excess food and grime can quickly clog a sink. Our team is up for the challenge and have an update drain service page helps locals learn what can be done."
The newly revised Wichita drain service page can be located at; http://www.benfranklinwichita.com/clogged-drain. Sewer issues during Thanksgiving and the fall in general may increase due to excessive use of kitchen sinks during holiday meals as well as because tree roots may break into pipes below and cause damage to a home sewer system. Several reasons for a clogged drain in Wichita can cause problems for a homeowner hosting guests at celebrations. Access to a professional 24/7 plumbing technician may provide quick solutions; many homeowners may not know the "cause" of their drain clog or slow drains, but a quick check of the new informational page and a quick call to Ben Franklin Plumbing can go quickly from a web research survey to an action item by a trained plumbing professional.
KANSAS RESIDENTS ADD DRAIN INSPECTIONS TO THEIR HOLIDAY CHECKLISTS
Here is background on this release. Wichita locals may have noticed the outdoors displaying the bright reds and golds of fall season. Cooler weather and falling leaves can indicate festive gatherings around the corner. Homeowners preparing for Thanksgiving, Christmas, Hanukkah, or other holidays, may have a checklist of projects before guests arrive. Decorating the home and creating a holiday menu could be a good start. After the grocery list has been completed and guest rooms prepared, it may be a good idea to check the plumbing. If kitchen and bathroom sinks have been found to empty slowly, it may be wise to check out the newly revised web page or even contact a Wichita drain service. Slow drains could completely back up just as guests begin to enjoy the pumpkin pie. Pre-planning a holiday celebration in the home by contacting a top Wichita drain service may help avoid home plumbing emergencies.
For these reasons, Ben Franklin Plumbing, a highly-trained plumbing service in Wichita, Kansas, has announced an update to their drain service page. Kansas residents concerned about a slow draining sink in the home might find professional advice and support. Early intervention of a home plumbing issue can help avoid larger problems. A slow drain can indicate food and debris has begun to clog home pipes. Washing dishes in a sink after a large family meal could add to the clog and cause a sewer system to back up on the spot. If drains seem clear, the issue could turn out to be aggressive tree roots infiltrating the sewer system. Either scenario can mean a 24/7 home plumbing disaster can take place. Locals can contact a top Wichita drain service to find answers early and help avert a plumbing emergency before guests arrive.
ABOUT BEN FRANKLIN PLUMBING OF WICHITA, KANSAS
Ben Franklin Plumbing is a top-rated plumbing service at http://www.benfranklinwichita.com/, serving greater Wichita, Kansas and located at 2825 E. Kellogg Avenue. The company offers 24 hour, emergency plumbing service and sewer line repair not only to Wichita but to surrounding communities such as Derby, Andover, and Haysville, Kansas. Professionally licensed Wichita, KS plumbers are ready for plumbing problems such as: drain service, installing pump systems and water heaters, sewer line clean-outs and faucet repair. The company also replaces and installs faucets, garbage disposals and toilets. When searching for sewer line repairs, sewer repair and unclogging drains in Derby, Andover, Haysville or Wichita, Kansas, Ben Franklin Plumbing is available.
Tel. 316-858-5985