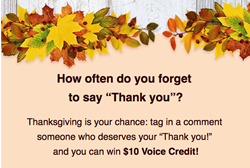 Interesting for expats, travellers and USA or Canada residents who use long distance calling credit regularly, since they can grab free credit in a simple Facebook challenge run by KeepCalling, a global expat service.
ATLANTA (PRWEB) November 22, 2017
KeepCalling.com, the global telco providing long distance services, gives away free calling credit in a new Thanksgiving challenge this week, on its Facebook page. The contest lasts until November 27, 2017, and the winner will be randomly picked on November 28. To enter the race for the $10 Voice Credit prize, one needs to tag a friend for whom he/she is thankful, in a comment to the Facebook post dated November 21: https://www.facebook.com/iamhomesick/
KeepCalling team hopes to bring the significance of Thanksgiving into the present everyday life, by focusing on a natural celebration among friends and family members besides the historical reality associated with this holiday, which is complex and can be a bit controversial in the nowadays talks.
Plus, this will be a challenge for fans and visitors of the Facebook expat community to "officially" thank someone in their life publicly, which gives a certain depth and seriousness to the statement. That is why it is called a "challenge'.
Anyone who needs international calling credit is welcomed to join the Thanksgiving challenge on KeepCalling Facebook page by tagging a friend who deserves a Thank You. Entries are expected by November 27, 2017, and all comments enter automatically the race for $10 Voice Credit that never expires. The credit can be used to call different destinations in the world at the rates on the website.
Voice Credit on KeepCalling.com works like the most economical calling card, with the exception that credit is purchased online, in seconds, without the hassle of going to the store, staying in a queue or else. The balance never expires and can be used to call in 2 different ways:

KeepCalling app is free to install on any Android or iOS device. It has 5000 installs every month and it has been optimised per customers' feedback.
Access numbers are local numbers that allow one to call outside the country without using any data (WiFi, 3G or 4G). This option gives one more freedom to walk and talk, while experiencing the best quality possible on international calls.
Besides Voice Credit, KeepCalling.com makes available long distance mobile credit transfers called Mobile Recharges that are instant and make great gifts or supportive gestures. Most KeepCalling.com fans are expats, and the website gives them the opportunity to help people back home in seconds by providing cellular credit right on their devices, no matter the distance apart.
But many other customers are American, Canadian or Australian residents recharging their own cellular phones online, for the same reasons: easiness and instant processing.
Expats on KeepCalling.com also use Virtual Numbers. That means they live in the USA for example, but own a number in Colombia, so that their family in Colombia can call them as much as they need to without any roaming costs.
Existing customers who left their reviews on specialised platforms like Trustpilot.com, point out certain strong aspects that make KeepCalling.com stand out on the global market:

Best quality-price ratio on the global market.
Everyone benefits of free calling features.
Payment is highly secure; the website bears the label "Verified & Secured" thanks to its strong security system.
Payment is accepted in all currencies.
Offers and bonuses are launched regularly for those who follow KeepCalling.com on Facebook.
KeepCalling.com is a website serving expats, travellers and USA, Canada and Australia residents who need long distance telecom services. It is a brand of KeepCalling, a global telecommunications company registered in 2002 in USA, who launched International Homesickness Day for the first time in history in 2016. Presently, KeepCalling provides its services to hundreds of thousands of consumers , with a focus on customer satisfaction. KeepCalling was listed by Inc 5000 as one of the fastest growing companies in the USA for 5 consecutive years.