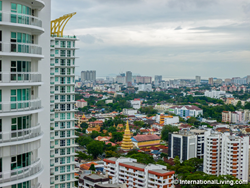 Shedding my car has given me more freedom than the open-road ever did
BALTIMORE (PRWEB) November 22, 2017
Increasingly, American Baby Boomers planning for retirement are looking for urban communities where they can easily and safely walk to where they need to go; find groceries, entertainment, restaurants, and such nearby; and access convenient public transportation to venture farther afield. What's more, they're beginning to ditch "over 50" retirement communities in favor of inter-generational exposure and experiences.
Developers in the U.S. are beginning to take these factors into account in creating environments that meet that criteria. But in the right places overseas, that ideal urban retirement environment already exists. And it can cost half—or even less—what it would to stay home.
"As retirees age more slowly and are able to maintain a more active lifestyle into their later years, they are—in increasing numbers—seeking out urban environments that allow them to enjoy real independence over the long-term, no car needed. But that kind of lifestyle can be expensive to fund in American cities where the cost of living is high," says Jennifer Stevens, International Living's Executive Editor. "By contrast, in the right places overseas, retirees can both embrace the convenience and accessibility of an urban retirement and at the same time slash their cost of living. They're finding all the perks of a 'walkable' environment with the added benefit that they can afford to enjoy it comfortably on as little as a Social Security check alone."
International Living's new report highlights three walkable, good-value cities around the world, each of which offers a safe and friendly environment in convenient neighborhoods where public transportation is easy to access and the multi-generational appeal is built in.
Cuenca, Ecuador
As Ecuador's third-largest city, Cuenca is the economic center of the southern sierra and has long been known for a rich intellectual, creative, and philosophical tradition. Cuenca is a UNESCO World Heritage Site, nestled in the Andes Mountains and surrounded by four rivers.
IL Cuenca, Ecuador Correspondent, Donna Stiteler grew up in Louisiana. "You could drive at 14 with a learner's permit, and younger than that if you lived outside the city limits. So I became tethered to a car very early in life," Donna says.
But when Donna and her husband, Rowland, moved to Cuenca, they decided to go carless.
"Four years later, I can say shedding my car has given me more freedom than the open-road ever did. In fact, going without a car has created a healthier, more affordable, and less stressful way of life. Living without a car is totally feasible in Cuenca."
By forgoing the car and relying on extremely affordable public transportation, Donna says she saves enough to fund not one, but two holidays back to the U.S. each year. "I like to say, by not having a car I save $210 a month ($377 for repairs, $1,124 for insurance and $1,014 for gasoline annually), which pays for two trips home to Florida each year. And it's $3.50 taxi rides to nearly anywhere in town. That's 720 taxi rides for that $210 and I do not have to drive."
Steeped in heritage and history, Cuenca is worth the walk. "When you slow down, you see a lot more. Cuenca's tourism board has created several self-guided walking tours through neighborhood districts including a gristmill and bread tour, French architectural tour, a museum route, the craft route among others."
Even though the cost of living in Cuenca is low, First World amenities and comforts abound. Expats Michael and Sandra Dodge took their first trip to Ecuador in 2011 and fell in love with Cuenca.
"We loved the rhythm and feel of the city, the parks, the centuries-old churches, cathedrals, and homes in the city center, and the endless offerings of symphony, theater, dance, music, and cultural festivals," says Sandra. "Cuenca offers friendly, helpful people along with a slower pace of life combined with all the conveniences of a modern city."
Expats report a couple can live comfortably here on a budget of $1,700 a month including rental of a three-bedroom apartment, utilities, entertainment, healthcare costs and maid service.
"Living here has allowed us to retire within our means. We rent a modern house that has two separate units. My mom lives in one unit and Michael and I in the other. Each unit is fully furnished, and has three bedrooms, two bathrooms, and a modern kitchen with a refrigerator, gas range, and microwave. The rent is $575 per month."
George Town, Penang, Malaysia
Penang is a small tropical island off the west coast of peninsular Malaysia. It has a population of just over 700,000, with the majority living in the capital, George Town.
"With its UNESCO World Heritage Site listing, the must-see sights of George Town are best explored by foot. The British designed George Town as a walking city," says IL Malaysia Correspondent, Keith Hockton.
Penang is a former British colony. As a result, English is widely spoken, making it easy to make friends. "The expats who live here love the fact that they live in a colonial city with a rich history and culture," says Keith.
"They also love the fact that they are a mere stroll away from everything that they need —café's, restaurants, bakeries, laundries, supermarkets and banks are all within walking distance, no matter where you live. George Town is walker friendly at night too, and most importantly, it's safe."
Despite Penang being a small Island, there is no shortage of arts and culture; from the International Film festival to the month-long George Town festival that celebrates the arts in every form imaginable. And with a mix of cultures, Penang is deemed to be a top foodie destination to visit in the world. A couple can live very comfortably on a budget of $2,000 a month, while renting a nice two- or three-bedroom apartment including utilities and employing a maid for 4 hours per week. Up that monthly budget to $2,500 more luxurious living, including a modern three-bedroom, three-bath, 2,300-square-foot condo with a balcony overlooking the ocean.
Mafra, Portugal
On the west coast of Portugal, located 21 miles northwest of Lisbon and 15 minutes from world-class surfing beaches in Ericeira, Mafra is the proud home of one of the country's largest national palaces.
Five years ago, IL Portugal Correspondent, Tricia Pimmental and her husband moved to Portugal. "We left the United States in pursuit of a slower-paced, more affordable lifestyle. We surely have found it in Portugal." Today they live in Mafra.
"The town of Mafra, offers the perfect blend of small town advantages and city sights," says Tricia.
It takes Tricia 20 minutes to walk from her home in Mafra, to the town center.
"Life centers around the majestic National Palace, celebrating its 300th anniversary this year, and the tree-lined esplanade which faces it. Clothing stores, restaurants, cafés, the produce market, pharmacy, meat vendor, hardware store, and optician ring around the plaza, where, depending on the season, chestnut or ice cream vendors offer their wares. Day and night, tourists and locals alike stroll about, chatting, shopping, and enjoying the stress-free life of an ideal Portuguese town."
Although modernity is overtaking Portugal quickly, you can still enjoy an old-style, Old-World life here at an affordable cost.
"You can expect to pay $5 for a fast food snack, about $7 for a meal in an inexpensive restaurant, and $10-$12 in a midrange eatery. At the grocery store, you'll find a half liter of domestic beer costs $1 and a bottle of nice table wine, $4. A taxi start is about $4, while a four-bedroom house rental runs about $1,100 with monthly utilities averaging $150. All in, a couple can live well in this walkable city on $2,000 a month."
International Livings full article is available here: Car-Free Living: 3 Walkable Retirement Towns Overseas
Editor's Note: Members of the media have permission to republish the article linked above once credit is given to InternationalLiving.com.
Further information, as well as interviews with expert authors for radio, TV or print, is available on request. Photos are also available.
For information about InternationalLiving.com content republishing, source material or to book an interview with one of our experts, contact PR Managing Editor, Marita Kelly, +001 667 312 3532, mkelly@internationalliving.com
Twitter: @inliving
Facebook: https://www.facebook.com/International.Living/
About International Living
For 37 years, InternationalLiving.com has been the leading authority for anyone looking for global retirement or relocation opportunities. Through its monthly magazine and related e-letters, extensive website, podcasts, online bookstore, and events held around the world, InternationalLiving.com provides information and services to help its readers live better, travel farther, have more fun, save more money, and find better business opportunities when they expand their world beyond their own shores. InternationalLiving.com has more than 200 correspondents traveling the globe, investigating the best opportunities for travel, retirement, real estate, and investment.