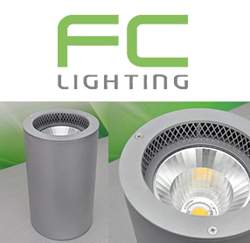 Most noteworthy is the unique ventilation system with an inner facing open grille at both ends of the cylinder.
ST. CHARLES, Ill. (PRWEB) November 27, 2017
FCC813i Indoor Cylinder is a newly released high output cylinder from FC Lighting that delivers 5000 Lumens. That is to say, the engineers at our U.S. manufacturing facility designed it specifically for high performance. Too, it's UL and ETL listed for indoor, dry location use and in the down position only. Most noteworthy is the unique ventilation system with an inner facing open grille at both ends of the cylinder. For this reason, the fixture has increased airflow for cooling the operating LEDs. Furthermore, the mesh grille provides a unique ventilation system for efficient heat dissipation throughout the fixture. Therefore, ensuring the advanced LED engine will have a long operating life.
For strength and overall performance, FC Lighting constructed the FCC813i Cylinder housing of marine grade, corrosion resistant, heavy walled extrusion and high pressure die cast aluminum. Next, we determined the mounting types to include both a pendant (FCC813Pi) and a wall mount (FCC813Wi) option for installation. In addition, you can mount the fixture directly to a standard recessed junction box in either installation scenario. From an electrical engineers perspective, this makes for an easier wiring application. Along with the fact that, the LED driver is integrated, housed inside the cylinder, so no remote drivers are required. Regarding the optical light reflector, it's precision formed, semi specular aluminum that is designed for maximum reflectance. Even more, there are four different optic beam angles to specify for achieving the desired lighting effect including spot, narrow flood, flood and wide flood. Finally, the protective lens is 1/8 thick, clear, tempered, heat resistant glass. Visit fclighting.com to see detailed specifications.
To ensure a long-lasting finish, FC Lighting applies an 8-stage powder coat application that includes a six-stage chemical pre-treatment process, that uses iron phosphate to prepare the substrate for a UV stable, super durable standard polyester powder coat finish. Subsequently, the factory offers four standard color finishes of Black, Bronze, Silver, and White. Likewise, there is the option to use any custom color to match interior design specifications. Simply provide a color swatch to the factory for matching or select a color from the RAL Color Index Chart.
The FCC813i High-Powered Indoor Cylinder is made in the USA at the FC Lighting manufacturing facility, located in St. Charles, IL, in the greater Chicagoland area. Being the manufacturer of this unique product allows for the flexibility to be able to modify the cylinder for certain applications. The engineers elected to utilize the pendant and wall mount installation options to support the special ventilation system. Their distinct design is not only functional, it also adds to the overall visual aesthetic of the cylinder. For accuracy, Illuminations Testing Laboratory completed all photometry and lighting capabilities testing using both the GMS-3000 Goniophotometric and the SPR-3000 Spectroradiometer.
Click here to watch our FC Lighting Company Capabilities Video.
Click to view our Capabilities Brochure.
See video of FCC813i made in USA.
FC Lighting, Inc., is a U.S. manufacturer of commercial architectural lighting fixtures for high-aesthetic indoor and outdoor applications, such as, retail, entertainment, hospitality, educational, government and other installations. Headquartered in St. Charles, IL (USA), the company ships globally. For further information about FC Lighting and its broad line of lighting products call 800-900-1730 or visit their website at http://www.fclighting.com.