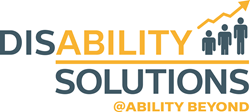 As consultants, providers, and employers, we need to stop filling yesterday's jobs. We need to prepare our emerging workforce to fill the jobs of tomorrow.
BETHEL, Conn. (PRWEB) November 24, 2017
Following in the footsteps of successful financial investors, all nonprofit organizations could benefit from diversification. However, identifying and launching a new branch of the organization that is not only a mission fit, but can also enhance the bottom line, can be daunting. Ability Beyond, a nonprofit that serves people with disabilities in New York and Connecticut, planted the seed of Disability Solutions and has watched it grow into its own highly successful national division.
"When Disability Solutions launched five years ago as an employer consultant service, we referred to the large, growing customer and talents markets – people with disabilities, as the next frontier," explained Kris Foss, Managing Director for Disability Solutions. "Ability Beyond had the courage to venture into the corporate consulting space with an invaluable service that companies have willingly invested in to improve diversity and inclusion."
Nonprofit Awareness Month in November honors all of the nonprofits that make a difference every day, along with the amazing individuals that lead them. Foss notes that the heart and dedication of the entire Disability Solutions team has fulfilled their mission of Changing Minds and Changing Lives.
"Many things have changed for the better, yet a lot of work is still ahead of us," said Foss. "There are continued challenges, new challenges, and the need to hold tight, never allowing backward movement." Foss shares the team's experience and insights into attracting and hiring talent with disabilities:
A New Frontier for Some, a Continued Journey for Others
Disability Solutions has worked with companies such as PepsiCo and Synchrony Financial who have taken effective action and are achieving results. They have hired hundreds of employees across the country in a variety of roles and are experiencing positive results in key workforce indicators, including:

Increased retention
Lower interview to hire ratios
Increased diversity
Higher engagement with increased rates of self-disclosure of a disability or veteran status
For others, attracting and hiring talent, along with engaging customers with disabilities, has not yet become part of their workplace culture. It is a journey, and there is much work to be done in order to change minds, correct misperceptions, and help companies get started.
All Companies Need a Strategy
Over the past few years, many employers have received advice to "just start and not worry about a strategy." While "analysis paralysis" should not stop a company from getting started, the Disability Solutions consultants have learned that HR leaders DO need a strategy, and getting help from subject matter experts is important to succeed. Consultants can help leaders by providing a fresh lens across their business to leverage existing assets, including employees, customers, communities, and even processes and systems. Taking time up front to assess and understand what works and what might need a new approach, is an important part of developing a strategy and taking effective action for results.
Don't Fall into the "We've tried this before" Trap
Sometimes employers cannot find the right pipeline, or have not had the best experience in the past, resulting in a hesitancy to try again. But don't let "we have tried this before" be a reason to not try, because competitors won't hesitate. As a former HR leader, Foss understands the need to mitigate risk and be the voice of reason and consistency, yet sees HR as a critical business partner in driving and supporting innovative approaches that can further business by bringing diverse experiences and thought leadership into the workforce.
Foss has also been a part of the disability provider community that is often operating based on insufficient funding models and policies, which can hinder innovation. Her advice to them is:

Don't rush to refer jobseekers without an understanding of the company's needs.
Communicate people's value. Don't take the "charitable" approach with employers. When we focus on charity, or refer every jobseeker without regard to qualifications, interests, or skills, we can actually contribute to the barriers.
The Time is Now to Plan for the Future Workforce
Workforce needs are changing, due to both globalization and advances in technology and automation. As consultants, providers, and employers, we need to stop filling yesterday's jobs. We need to prepare our emerging workforce to fill the jobs of tomorrow. With 1 in 5 people in the U.S. having some type of disability, talent with disabilities represents a wide range of experiences, education levels, and skills.
The skills focus is shifting from physical work to thought work. Industries such as supply chain, finance, retail, and food service are meeting workforce and profit margin needs through automation and technology. Utilizing data to drive business decisions is a need across industries. This has created the need for employees who can interpret data, form recommendations based on trends, and operate and support technology.
Foss concludes "We are no longer exploring a new frontier nor gaining proof of concept, we innovate based on real outcomes supported by data, real people, and business results. In the beginning, Disability Solutions was an investment, but it quickly becoming a contributor to the financial wellbeing of the Ability Beyond organization. Disability Solutions is bridging the gap between employers and jobseekers with disabilities and organizations that provide supports. Our work with employers across the country increases the reach of our mission at Ability Beyond and is true to the primary pillar of Disability Solutions - to Change Minds and Lives through disability inclusion."
Founded in 2012, Disability Solutions is the national non-profit consulting division of Ability Beyond headquartered in Bethel, Connecticut. Disability Solutions focuses on helping corporations tap new channels for qualified talent, manage culture change, respond to a changing regulatory environment, and strengthen their workforce through diversity. To learn more visit:http://www.disabilitytalent.org/ or for more information about the Career Center, please visit http://www.disabilitysolutionstalent.org.
CONTACT: Alisa Picerno, 860.217.0595; Alisa(at)alliancesbyalisa(dot)com