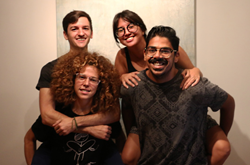 MIAMI (PRWEB) November 24, 2017
First-year graduate students graduate students enrolled at Florida International University –Creative Track in partnership with Miami Ad School to create a graphic used to promote the Italian Cinema Festival 15th edition in Miami. The same graphic will be used to promote the same festival in Atlanta, GA in April.
This is an example of the real-world learning that the FIU-MAS offers its students to help build their portfolios. The students were divided into 4 teams of 4, and representatives of the festival chose the wining graphic. Contact FIU-MAS to see the graphic and learn more.
The winning students are:

Adriana Magana
Rachel Vasquez
Bader Salahuddin
Daniel Jungkind
The graphic was used to promote the festival, which screened ten award-winning films at the Colony Theatre in Miami Oct. 6-10.
About the FIU-MAS Program:
In order to reflect its commitment to advancing the future of the advertising industry, the FIU School of Communication + Journalism (SCJ) extends its Global Strategic Communications (GSC) program by offering a Creative Track option that focuses on developing a global perspective in strategic communications through the development of trained art directors and copywriters. The program's high graduation rate reassures students that they will succeed in obtaining a Master of Science in Mass Communication. This program is specifically designed for creative students who have completed an undergraduate degree from an accredited academic institution and desire to pursue a graduate degree that combines advanced courses in creative art direction and copywriting skills with the in-depth study of creative strategy, research and communications theories in the field of advertising. The FIU SCJ GSC creative track graduate program creative track consists of 39 course credits of a unique, advanced and specially designed curriculum in conjunction with the world-renowned Miami Ad School. For the past years, Miami Ad School has been ranked by the Gunn Report, the top advertising ranking authority globally, as the best advertising school in the world based on the quality of the awards received by the grad students across all our advertising schools.