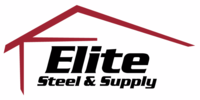 TEMPLE, Texas (PRWEB) November 28, 2017
Elite Steel & Supply, a Temple, Texas-based company announced today that it is now offering free quotes for metal buildings and supplies.
"We're very excited about this," said Garry Smith, owner and spokesman for Elite Steel & Supply. "We've always wanted to bring as much value to current and potential customers as we can. Providing quotes for metal buildings and supplies at no cost to customers ensures that we're doing exactly that."
Elite Steel & Supply's mission, according to Smith, is to provide premium metal roofing and metal building supplies direct from its mill to customers, while maintaining its focus on quality and customer service. Those interested in receiving a quote at no cost, can do so quickly and conveniently at http://elitesteelandsupply.com/get-quote.
In addition, Elite & Supply empowers customers with one location for all of their metal and steel building needs. With the quickest turnaround in Central Texas, 24 hours in most cases and a large variety of inventory on hand for will-call pickup, Smith stressed that Elite Steel & Supply, is the perfect destination for metal buildings, steel buildings, steel barns, metal garages, metal roofing, metal building supplies, metal carports, carport and gazebo kits, metal sheds and more.
Smith went on to point out that a great reason why customers should get a free quote from Elite Steel & Supply, is because the company is family owned and operated, which in turn means its internal communication, values and teamwork abilities behind the scenes are in sync.
"As a family, we respect each other and work together, in and out of the shop," Smith stressed, before adding, "This cohesiveness ensures every department is doing its part and communicating with the other departments to offer you a seamless customer service experience. As a family owned business, we do not have a head office sending us generic policies or slogans. We live, work and play right here in Texas, and our customers are our friends, neighbors and peers.
For more information, please visit elitesteelandsupply.com/about-us and elitesteelandsupply.com/products-and-services.
About Elite Steel & Supply
Family owned and operated. We are committed to offering personal service and superior-quality products, direct from our mill to you. We are your one-stop shop for metal and steel buildings and supplies in Temple, Texas. Elite is pleased to offer the fastest turnaround time in central Texas.
Contact Details:
Garry Smith
7575 Pegasus
Temple, Texas 76501
USA
Phone:
(254) 773 – 4300
(254) 913- 2345
Source: Elite Steel & Supply