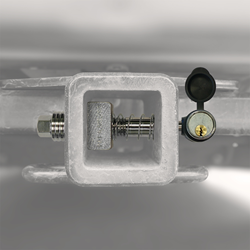 This reexamination affirmed all four original claims and added a number of new claims, which further strengthen our STP patent portfolio and endorses that Let's Go Aero is the inventor of the Silent Hitch Pin technology. - Marty Williams, CEO
COLORADO SPRINGS, Colo. (PRWEB) November 27, 2017
Let's Go Aero announced today that its United States patents (US 6,609,725 and 6,945,550) protecting its Silent Towing Products (STP) technology were upheld by the United States Patent and Trademark Office (USPTO), following ex parte reexamination initiated in June 2016 by a third party litigant. These patents are part of Let's Go Aero's market-leading cargo management and outdoor lifestyle product lines. "We are very satisfied with this confirmation of the validity of the '725 and '550 patents by the USPTO", stated Marty Williams, CEO and LGA inventor. "This reexamination affirmed all four original claims and added a number of new claims, which further strengthen our STP patent portfolio and endorses that Let's Go Aero is the inventor of the Silent Hitch Pin® technology."
The Silent Hitch Pin is an attachment device that eliminates shock loads, motion, and distracting noise from the connection between a receiver-style hitch and a hitch accessory like a towing ball or bike rack.
Williams added: "I am very pleased that the reexamination, although relevant to only two of our five STP patents granted in the USA, has been concluded in a very favorable way for Let's Go Aero. I would like to thank our patent prosecutors Lynette Wylie and Tracy Heims at Apex, Juris for assisting LGA in this successful outcome."
Let's Go Aero is a Colorado-based outdoor lifestyle company focused on the art of gear management, providing fresh approaches for storage on-the-go and expanded living in the outdoors. Let's Go Aero has been inventing new solutions for transporting recreation and utility gear since 1998, and has been recognized in the automotive, outdoor, and RV markets for its award-winning designs including the Silent Hitch Pin, TwinTube, GearBed, Jack-IT and other innovations.
To read more on the Silent Hitch Pin: Click Here
For more information please contact:
Let's Go Aero:
Gail Condon, PR Officer
tel. 719-630-3800
marketing(at)letsgoaero.com