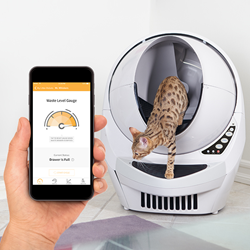 No one likes to deal with the litter box
AUBURN HILLS, Mich. (PRWEB) November 24, 2017
AutoPets is excited to announce the launch of the Connect app for the Litter-Robot automatic, self-cleaning litter box. The new Connect app gives users additional freedom from their litter box duties by allowing them to remotely monitor and control a single Litter-Robot or multiple units.
The app is compatible with the new, WiFi-enabled Litter-Robot III Open Air with Connect. "We are so excited for this launch; not only are we fulfilling a customer wish, we are also catapulting the Litter-Robot into the IoT space," states Brad Baxter, President and inventor of the Litter-Robot. "By bringing together the Litter-Robot with the newest technology, we're giving pet parents a way to solve a problem and manage the solution."
"A key part of our product design process is to think about how we can continue to improve the lives of our customers," says Jacob Zuppke, Vice President of Marketing and Sales. "We've taken an already-smart product and made it even smarter."
A key feature of the Connect app is the waste level gauge, an animated gauge that displays the real-time waste level. The gauge uses AutoPets' proprietary machine learning algorithm to refine its cycles-until-full estimate and increase accuracy over time. The app will also alert the user through a push notification when it's time to empty the Litter-Robot.
"No one likes to deal with the litter box, automated or not. It's typically located out-of-sight and, unfortunately, out-of-mind," says David Saterstad, Director of Marketing. "Now, with the Litter-Robot and Connect app, you don't have to scoop the litter box and you don't have to check on it to know when it needs your attention; it will tell you."
The app also gives the user full remote control. Through an easy-to-use interface, users can change feature settings, see notification history, view usage stats, and get troubleshooting support. The Stats feature displays unprecedented data about the cat's litter box habits, so owners can gain insight into their cat's health.