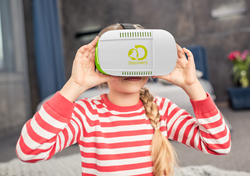 EDISON, N.J. (PRWEB) November 28, 2017
Sakar International, a leading provider of consumer electronics and accessories since 1977, is helping families get ready for the holiday season with a range of enjoyable new licensed products including children's virtual reality headsets, dance mats, karaoke machines, and more. Each of the new additions will make the perfect gift for the curious child in your family this holiday season.
Sakar's innovative youth electronics include Discovery Kids Virtual Reality Headsets and My Little Pony Karaoke Machines at Walmart, Beatbugs Piano Dance Mats at Target, and Hatchimals MP3 Microphone at Toys "R" Us. For more information about all the great products Sakar is offering for the holidays see below:
Discovery Virtual Reality Headset: Features a 3D video experience drawing inspiration from the Webby award winning Discovery VR content, transforming any smartphone into a 360-degree virtual reality viewer. The headset is fully compatible with any smartphone device. From Shark Week to Everest Rescue, the Discovery headset offers the opportunity to have experiences which transport kids to places they didn't know existed while sparking curiosity at every turn. It is sure to add the wow-factor to any child's virtual reality experience.
-MSRP: $19.99
-Includes custom Discovery content like Shark Week or Everest Rescue and allows you to view the content or any VR content on YouTube or other apps
-Available at Walmart
Beat Bugs Piano Dance Mat: Ready to make some music with the Beat Bugs? Step and slide with them with the Beat Bugs Piano Dance Mat. This interactive mat is fun and easy to use! Simply stomp your feet on any Beat Bugs designed key to plays a specific note from a musical scale. With pre-programmed tunes included, this mat is sure to keep the whole family entertained! Requires 3AA batteries. (Batteries not included)
-MSRP: $19.99
-Interactive electronic Piano comes with built in follow me game
-Play along to "All you need is Love" and "Yellow Submarine"
-Available at Target
Hatchimals MP3 Microphone: Take center stage, with the Hatchimals Karaoke Microphone. Designed with the super-star Hatchimal-lovin' singer in mind, this MP3 microphone gives children the power to customize their performance to sing with (or without) accompanying vocals. For an enhanced experience, this microphone comes with built-in crowd cheering audio, so kids can hear the wonderful applause after a whirlwind performance. Battery operated this karaoke microphone runs on 3 AAA batteries (not included) and works well with any iPod or MP3 device.
-MSRP: $19.99
-Designed with Hatchimals graphics and allows users to hook up your iPod or MP3 player to customize songs
-Available at Toys R Us
The My Little Pony Movie Deluxe Karaoke: Kids will love singing along to their favorite tunes with the Sakar International My Little Pony Karaoke with Screen. Your child will spend hours rocking out to popular music, while enjoying his or her favorite My Little Pony characters. This Sakar International karaoke machine connects to any TV for amplified sound while CD+G lyrics display on the TV screen, allowing kids to read along as they sing. It also connects to ios devices and other MP3 and tablet devices. Or, connect this karaoke machine with screen to a CD player to play music while singing right along. It comes with a CD+G disc inside which features two hit songs: "Counting Stars" and "Love Story." This player comes with cables needed to connect it to iPods or MP3 players.
-MSRP: $79.99
-Age range: 5 years and up
-Monitor with lyrics display from CD+G and includes cable to connect iPod/MP3 player
-Available at Walmart
These products will be available in Walmart, Target, and Toys "R" Us stores nationwide this holiday season. For more information, please visit http://sakar.com/.
About Sakar International
Sakar International, Inc. is a leading provider of consumer electronics and accessories. With a rich heritage of technology innovation since 1977, Sakar has developed a global presence by consistently evolving alongside technology to develop on-trend, cutting-edge products. Sakar licenses over 40 major entertainment and corporate brands and has maintained a diverse portfolio of product offerings, including digital and action cameras, audio and mobile accessories, karaoke machines, musical instruments and additional youth electronics. Sakar is the parent company to Vivitar, a full-spectrum consumer tech company specializing in the production of cameras, camcorders, mobile accessories, and health and wellness products. Sakar is headquartered in Edison, NJ, with additional offices in the United Kingdom, Canada, Latin America, Australia, Hong Kong and China. For more information, visit http://www.sakar.com.
###