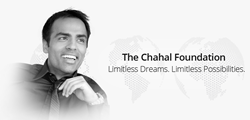 Gravity4 grew from a mere idea to a company that now works with Fortune 1000 brands across the globe, projected to deliver nine-digits in global revenue, with hundreds of employees, and has established its presence of being a thought-leader by adding A.I. and blockchain technologies to its offering.
MIAMI (PRWEB) November 22, 2017
Gravity4, a leading big data marketing cloud with offices in 19 countries, unanimously promoted Kamal Kaur, to Chairwoman & CEO of the Company, as founder Chahal focuses 100% of his time toward his philanthropic goals and sold his stake to a private group of investors.
Kamal, who previously served as President & COO of the Company, has been an industry veteran with more than 20 years of experience in the tech industry. She was also the co-founder of BlueLithium, acquired by Yahoo! in 2007 for $300 million. Kaur has extensive experience leading cross-functional product and engineering teams in many of the valley's top firms. Her passion remains rooted within emerging technologies as she introduced Gravity4's MonaLisa A.I. engine to their technology stack. She previously led executive roles at ClickAgents (acquired by ValueClick,), BlueLithium, Yahoo! and RadiumOne. Kamal is a graduate of Stanford University, School of Business. She is also pursuing her Doctoral degree with a dissertation focused on the disruptive technologies in the Science of Machine Learning.
"Gravity4 grew from a mere idea to a company that now works with Fortune 1000 brands across the globe, projected to do deliver nine-digits in global revenue, with hundreds of employees, and has established it's place as a thought-leader by adding artificial intelligence and blockchain technologies to its division. I am excited about this opportunity and look forward to leading the Company to its new heights," said Kaur.
"Kamal has been an entrepreneurial executive, whom I always looked up to, she has been at the forefront of innovation within advertising technology sector for the last two decades. As a board member of Gravity4 and Managing Director of APAC, it is with great honor to unanimously announce Kaur to be the next CEO. I look forward to working closely with her as we enter an exciting growth period," said Kevin Huang.
"With so many tragedies that recently occurred this year, I look forward to dedicating 100% of my time to giving back to the society that has allowed me to be successful. I look forward to having The Chahal Foundation make a meaningful impact in today's world. I am proud of the work Gravity4 has accomplished in just 3 ½ years, and even more proud of its leadership team. Kamal was the perfect candidate for paving the road in Gravity4's next growth chapter."
Chahal, founded The Chahal Foundation in 2012 and is a 501(c)3 registered non-profit which has hundreds of volunteers throughout the globe. The foundation's five core goals have been: creating awareness of social causes, university scholarships and mentorships, supporting disaster relief efforts, improving schools in third world countries with a focus on having young girls stay in school, and also building awareness to eradicate child sex trafficking.
About Gravity4
Gravity4 is the world's first high-frequency machine-learning marketing OS, built to enhance the advertising and SaaS industries. It collates customer experience so marketers can target a customer throughout the entire purchase journey and across all consumer touch-points, regardless of delivery channel. Its proprietary AI technology, Mona Lisa, builds a consumer persona by aggregating data across channels. The platform's fluid and constant in-stream of data are sorted into a semantic graph to form connection clusters, using the correlation variables. All through a single click, it empowers agencies and marketers to allow connected software to optimize a manually driven $200 billion global advertising market. The company's headquarters are in Miami, but it has offices in Sydney, Stockholm, Oslo, Auckland, Madrid, Singapore, Copenhagen, London, Dublin, Amsterdam, Helsinki, Hong Kong, Shanghai, Kuala Lumpur, Christchurch, and Taipei.