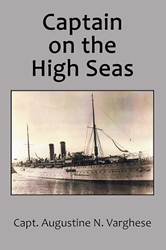 "This action-packed memoir fills 319 pages, describing what a sailor's life really entails. It is one man's enriching life story, as well as an important story to be told." - Robert Fletcher, CEO of Strategic Book Publishing and Rights Agency
(PRWEB) December 12, 2017
The odds were against him.
In 1957, after being chosen from 50,000 applicants for a career in the Indian Merchant Marine, the author says, "It was almost miraculous that I stepped on that ship."
Capt. Augustine N. Varghese explains, "Only 60 candidates were to be selected from more than 50,000 boys who had written the qualifying examination. One hundred and twenty candidates who got the highest marks in the examination would be called for interview in Bombay out of which 60 unfortunate boys would have to return home." His home state had a quota of six cadets.
The captain's life – from his selection to sail on the merchant training ship Dufferin (named after a viceroy of the British Government to India) – covers his days from apprenticeship as officer cadet, to certification, and working on merchant ships as junior officer, senior officer, and finally as captain.
Watch the video at: https://youtu.be/moVIq2BOw5k
About the Author: Capt. Augustine N. Varghese was born on the southern tip of India in the State of Kerala. He retired from his life at sea in 2008, but still loves to travel. This is his fourth book.
"This action-packed memoir fills 319 pages, describing what a sailor's life really entails. It is one man's enriching life story, as well as an important story to be told. We proud to announce its release," said Robert Fletcher, CEO of Strategic Book Publishing and Rights Agency.
CAPTAIN ON THE HIGH SEAS (ISBN: 978-1-94653-908-3) is now available for $23.95 and can be ordered through the publisher's website:
http://sbprabooks.com/AugustineNVarghese or at Amazon.com or Barnesandnoble.com.
WHOLESALERS: This book is distributed by Ingram Books and other wholesale distributors. Contact your representative with the ISBN for purchase. Wholesale purchase for retailers, universities, libraries, and other organizations is also available through the publisher; please email bookorder@sbpra.net.