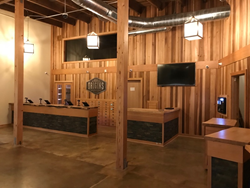 Our brand is all about the Pacific Northwest and showcasing the natural beauty it offers." - Sean Miller, managing partner of Origins
REDMOND, Wash. (PRWEB) November 23, 2017
Redmond-area cannabis consumers have something else to be thankful for this Thanksgiving. Origins Cannabis, one of the most popular cannabis dispensaries in Seattle, opened a second location in Redmond's Old Town.
The new retail store provides consumers a unique experience, even by Seattle's industry-leading standards. The new retail store offers consumers a cafe-like experience where patrons can not only purchase the highest quality cannabis in the state, they can shop for trendy, top-of-the-line clothing, while sipping small-batch coffee.
"Our brand is all about offering the highest quality products for the best value while creating unique experiences for our customers," said Sean Miller, managing partner of Origins Enterprises. "Origins took on a year-long renovation project to bring back a dilapidated historic building in Old Town that's been untouched for almost 40 years. We transformed it into a beautiful space that reflects our Pacific Northwest roots and are excited to share it with the community."
Blending Science and Consumer-Centric Design to Demystify the Cannabis Consumer Experience:
Origins Cannabis takes pride in hand selecting top quality products from farms who share their same passion and values. Origins invested a significant amount of time and resources to create what they believe is the first scientific approach to recommending the correct products based on the cannabinoid and terpene profiles.
"When we say hand selected we actually mean it," said Andrew Cornwall, partner, Origins Cannabis. "Each strain is selected in person by our trained curators to ensure it meets our rigorous quality standards. We provide customers a loyal brand they can purchase with confidence."
Not only does Origins exclusively source the highest quality cannabis that meets their rigorous standards, they also simplify the cannabis customer experience. With its patent-pending Origins Lifestyle Spectrum interactive menu, customers can easily find cannabis products that provide the effects they most desire, while matching their lifestyle.
Origins worked with scientists and cannabis experts to map their products (based on cannabinoid ratio and terpene content) to consumer lifestyle preferences, tailoring their products to six lifestyle profiles:

Party Go'er: You live care-free and want to experience life on all cylinders. Party Go'er products are ideal for cannabis enthusiasts who want to hit the town with friends and live life to the fullest.
After Hours: For consumers who want to chill out and relax, After Hours products are perfect when you're ready to wind down from the perfect night.
Holistic: Big Pharma isn't your thing. You prefer natural remedies to treat your ailments or improve your quality-of-life.
Social: You seek the courage to be in a different state of mind while out among a group of friends, or maybe you just want to let loose and meet new people without hesitation.
Adventurous You enjoy using cannabis to explore the world that you live in every day. Whether you are seeking a new outlook on life or just seeking a little more excitement on that trail you love so much, you lead with an open spirit.
Self-Discovery: You want to challenge your mind. Reflection is essential to you, and it's about becoming a better person.
Black Friday Weekend Deals:
To celebrate the opening, Origins will be offering amazing deals and savings on some of their most popular cannabis products.
Customers can save 50 percent or more on some of Origins' most popular products, from flower and vape pens to edibles and pre-rolls.
Fast Facts About Origins Cannabis:
Origins mapped their Lifestyle Spectrum interactive menu to customer lifestyle preferences. Try it! Check out the Lifestyle Spectrum.
Origins is one of the only cannabis retailers in the world to use science to map products according to customer lifestyle preferences. Read more on the science.
Origins Certified™ is a designation for Origins vendors and partners that means they've proven an ongoing commitment to strict requirements that ensure your safety. These producer/processors represent the finest qualities of the Northwest. Learn more.
For the new location, Origins took on a year-long renovation project to bring back a dilapidated historic building in Old Town (untouched for almost 40 years) and transformed it into a beautiful space offering small-batch coffee, top of the line clothing and the best cannabis products in the state.
Origins Cannabis is part of the house of brands owned by Origins Enterprises.
The new store has 15 knowledgeable and customer-service focused employees.
Store Location and Contact:
Origins Cannabis is located in Old Town on the corner of 164th and Cleveland next to the entrance to the Redmond Town Center:
16390 Cleveland Street
Redmond, WA 98052
Hours of Operation:
Monday-Thursday: 8:00 – 10:30
Friday & Saturday: 8:00 – 11:30
Sunday: 9:00-9:00
Phone #: 425.298.0170
Website: http://www.originscannabis.com
About Origins Cannabis:
Origins is a brand that exudes passion for cannabis, creating memorable and welcoming environments and people. At its core, we believe in quality and transparency. Quality has to be experienced to be appreciated. To properly experience quality clients need to be guided through content and personal interactions as to which strain or product will help them accomplish their goals. Origins identified a void in the market around education and transparency and addressed this need by launching the Origins Lifestyles Spectrum which provides scientific data and matched it how it impacts and interacts with the human body.
###