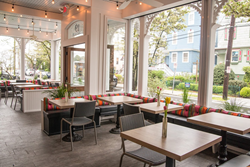 So, over a century after the Carroll Villa was built in 1882, and more than 40 years after Harry Kulkowitz envisioned that porch as the best gathering place in town, the Mad Batter, updated but preserved, continues to be an integral part of the history and fabric of Cape May, America's First Seaside
CAPE MAY, N.J. (PRWEB) November 24, 2017
When Harry Kulkowitz bought a century-old building on Jackson Street in Cape May in the 1970s, he envisioned a restaurant serving amazing food, showcasing art and music in beautiful surroundings. He also imagined the big, empty front porch filled with people every summer, enjoying the ambiance of this seaside resort.
With creativity and enthusiasm, his vision became a reality. The Mad Batter Restaurant and Carroll Villa opened in 1976 in a seaside town with a Memorial Day to Labor Day season. Cape May thrived, as did the Mad Batter. Year after year, the summer season stretched into fall, then winter and more and more people congregated on the European-style porch, especially after the iconic yellow-striped awning was added to provide shade in July and August.
Today, more than four decades later, what was old is now new, once again, at the Mad Batter and that iconic porch is a year-round gathering spot for locals and visitors, regardless of the weather.
A year ago, Harry's son Mark and his wife Pam Huber who now own the property decided to celebrate 40 years of the Mad Batter and the Carroll Villa, remodeling and transforming the popular porch into a comfortable, year-round area.
Plexiglas panels keep out the winter chill or open to let ocean breezes waft through in pleasant weather. Décor includes wainscoting, rich brown flooring and vibrant upholstery. Radiant heat keeps everyone warm regardless of outside temperatures. There's more seating, something often needed with the Batter's live music seven nights a week.
From mid-November to New Year's, Victorian Cape May is a scene set by Charles Dickens himself. Gaslights, trolleys, horse-drawn carriages and Victorian buildings - homes, inns and businesses - all adorned inside in and outside with copious and ornate decorations, Christmas trees, garlands, poinsettias and more.
The Grand Lawn at Congress Hall, the Summer White House of several presidents, is transformed into a magical winter wonderland. A towering Christmas tree dominates the scene near an enchanted village where shoppers can sip hot chocolate as youngsters enjoy a train ride on the Congress Hall Express.
At Cape May Stage, "The Ultimate Christmas Show" at the Robert Shackleton Playhouse on Lafayette Street is a silly, slap-stick pastiche - and the perfect way to usher in the holidays or stay in the spirit through New Year's Eve.
Turn the clock back to 1879 at the Emlen Physick Estate on Washington Street, decked out in true Victorian style for Christmas --a unique living history experience narrated by members of the Physick family household in the 1890s. Enjoy the Christmas Traditions exhibit at the Carriage House Gallery, a breathtaking Dickens Village beneath the boughs of a giant Christmas tree.
Cape May is definitely a walking town but trolley tours - Lamplighter, Holiday Lights, or Santa's Trolley - are fun, inexpensive ways to see a few sights and learn a bit more about Cape May, the Victorians and their holiday traditions. And, for a taste of the supernatural, hop aboard the Ghosts of Christmas Past Tour - it really is a Dickens Christmas treat!
Washington Street Mall, a 3-block pedestrian shopping area in the heart of Cape May, between Ocean and Perry streets, is filled with pubs, restaurants, specialty shops, candy stores and more.
Check a variety of websites, especially http://www.capemay.com for holiday events that include craft shows, parades, concerts, restaurant hours and special events through New Year's.
So, over a century after the Carroll Villa was built in 1882, and more than 40 years after Harry Kulkowitz envisioned that porch as the best gathering place in town, the Mad Batter, updated but preserved, continues to be an integral part of the history and fabric of Cape May, America's First Seaside Resort.
For Contact: Kay Busch - 609-884-5970 ext. 301