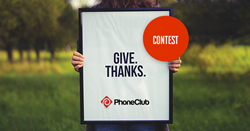 Atlanta, Georgia (PRWEB) November 23, 2017
This Thanksgiving, PhoneClub.com launches a special challenge: customers and not only are invited to think about the people for whom they are thankful, but forget to say it throughout the years. So, Thanksgiving is the opportunity to tell them "Thank you, for everything you've done for me!" or "Thank you for being a part of my life!" or whatever they might feel at the moment. All comments enter the race for $10 free Voice Credit for international calls, which may be converted into more thank-yous. The Facebook contest is open until November 26 and the winner will be randomly selected on November 27.
PhoneClub.com, a telecommunication website dedicated to ethnic groups living outside their mother countries, can be used when calling from any landline, mobile or even payphone in the world, through local or toll free access numbers. Calls can also be placed through the free PhoneClub app. The iOS and Android applications can be used to call without having to dial any access number and even any phone number at all. Once logged in, customers can use their phone contacts to call.
The mechanism PhoneClub.com proposes is simple and intuitive: become a PhoneClub.com member without paying any membership fee, buy Voice Credit and start calling internationally at the lowest rates in the world, no matter the destination. The mechanism PhoneClub.com proposes is simple and intuitive. One becomes a PhoneClub.com member without any membership charge, he/she buys Voice Credit and starts calling internationally at the lowest rates in the world, no matter the destination. The most important advantage PhoneClub.com offers is the free access to amazing rates. Once they join PhoneClub.com, customers have access to the lowest calling rates that allow them to make long calls to whatever destination they need to reach.
Whether "back home" is in Canada, UK, India, Nigeria, or Mexico, calling family and friends more often is a good idea to feel closer to home.
Calling Canada? Sure, for hours on end. For $10, customers can talk for 5,000 minutes, as the rate is as low as 0.2¢/min.
Crossing the ocean to UK? The same rule applies here: long calls are most appreciated. The rates for calling UK vary from 0.3¢/min for landlines to 1¢/min for mobiles. So, with PhoneClub.com customers get 3,333 minutes for calls to landlines for only $10, and 1,000 minutes if they call mobiles, except Premium.
India and Nigeria are also expecting calls from their citizens living abroad. Calls to India mobiles are as low as 1¢/min for landlines and 1.1¢/min for mobiles. If home is Mexico, for $10 (spent) customers receive 5,000 minutes to call landlines or 3,333 to call mobiles there.
The 100% transaction security, the 24/7 Customer Service available by email, phone, and chat in both English and Spanish, plus the comprehensive Help Center are key elements PhoneClub.com focuses on in order to make the service reliable and secure.
All PhoneClub.com promotions and contests can be found on their Facebook page: Facebook.com/PhoneClubMembers
About PhoneClub.com
PhoneClub.com is an interactive website designed by KeepCalling, a global telecommunications company registered in 2002 in USA. Presently, KeepCalling provides its services to hundreds of thousands of consumers, with a focus on customer satisfaction. In 2014, Inc. 5000 listed KeepCalling as the 18th fastest growing company in the telecommunications industry in USA.