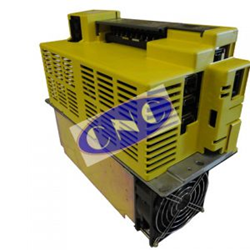 We pride ourselves in being able to hold a large inventory of stock with our service exchange program geared towards being able to offer very quick turnaround times at a great price. Get your machine up and running quickly and make us your first port of call for all your Fanuc part requirements.
NATIONAL CITY, Calif. (PRWEB) November 25, 2017
With many drives available off the shelf via their service exchange program most drives are available for immediate shipping throughout the continental US, Central and South America. For any items not in stock CNC Electronics West can beat the industry standard turnaround of 5-7 days and offer a 24-hour Fanuc drives repair turnaround as standard giving them a competitive advantage over their nearest competitors.
Current GE Fanuc drive services offered by CNC Electronics include those for the GE Fanuc Alpha spindle drive, and include both small and large generations of SPM, SPM-C and SPM HV. Fanuc Alpha servo amplifier module, including small and large generations of SVM, SVU, SVU-C, (as well as different interfacing Type-A, Type-B, FSSB single, dual and triple axis SVM-1, SVM-2 and SVM-3 servo amplifier modules). Fanuc servo amplifier unit for both the Alpha / Beta series including SVU, SVU-C, BiSVSP. Fanuc Beta servo spindle unit, Fanuc AC servo drive, (single, dual and triple axis) and Fanuc AC spindle drive, of which there are over 100 different GE Fanuc spindle drives in US stocks. CNC Electronics West also holds a range of power supply modules from the early Fanuc Alpha modules PSM through to the later Alpha I aiPS and 200VAC and 400VAC high voltage units.
With over 100 Fanuc test rigs across the group, all parts whether supplied as an exchange or in for repair are fully tested before dispatch with a 180-day warranty offered as standard on all exchange and repair drive services.
Leading the industry on low price repairs with up to a 75% cost reduction on OEM pricing and other Fanuc repair shops CNC Electronics West hold thousands of parts in stock with the ability to pull from a larger inventory of parts stored worldwide.
For further information and a more detailed description of the drives CNC Electronics West offer, please visit the dedicated drives page on their comprehensive website. http://fanuc.cnc-electronics.net/products/fanuc-drives/
Out Now! The 2018 CNC Electronics' Price List. Please contact CNC Electronics West directly to request your copy.
Further Information for Journalists
Founded in 2009 to help customers in the Western States of the US, CNC Electronics West based in San Diego are the premier independent Fanuc parts specialist to Western US, Canada, Mexico and the rest of the America's.
Combined with their East coast partner and the rest of the group they offer many services for Fanuc CNC and GE Fanuc. Services include extensive AC servo and spindle, Alpha & Alpha i power supply module testing, repair and parts for exchange. Same Day / 24-hour turnaround on Fanuc Repairs, and large stocks of CNC monitors, PCBs, and much more.
In addition to parts distribution, CNC Electronics West also offers a full sales and after sales service, a reliable warranty program and a range of testing and diagnostic services that are second to none.