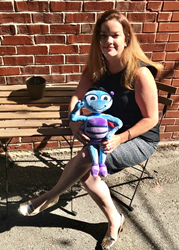 "Kids raised in a mompreneural household tend to be hard negotiators and learn time management early." Said Shipley
KANSAS CITY, Mo. (PRWEB) November 27, 2017
Off-Kilta Matilda was founded by mompreneur Sarah Shipley the CEO of Shipley Communications LLC. She created the book and character Off-Kilta Matilda because of her passion for Science, Technology, Engineering and Mathematics (STEM) subjects.
This series is a tribute to all the moms who are raising children while running a business. Being a mompreneur requires much more than technical skills and training. It requires: time-management skills, multitasking, creativity, budgeting, negotiation and crisis management.
"Sometimes the negotiation is with the vendor, sometimes with the bank and many times the hardest negotiations are with the kids," Says Shipley. "Kids raised in a mompreneural household tend to be hard negotiators and learn time management early."
There are many mompreneurs. These mompreneurs transcended many myths, dilemmas and hurdles that came their way. They found that being a mom cannot deter them from pursuing and achieving their goals. They can start a business while still caring for their kids. Many invested their own savings and some borrowed money from family members to pursue their goals. Their great business ideas have helped solve many of the life's problems. These women realized there is a need and acted to offer solutions to fill the needs. Some of these mompreneurs are Julie Aigner-Clark of The Baby Einstein Company; Sheila Lirio Marcelo of Care.com; Nicole Gleeson of Little Mizz Kit; Angela Benton, founder and CEO of NewME.
Today mompreneurs are a source of inspiration for other moms and girls who aspire to achieve their dreams despite their situation in life. All they need is self-confidence, positive thinking and a determination.
Off-Kilta Matilda started off with a dream to inspire girls and encourage them to study STEM subjects. Research has revealed gender disparities are more prominent in STEM careers. Though women constitute half of the total U.S. college-educated workforce, they make up only 29% of the science and engineering workforce, according to studies. Thus, making STEM careers more lopsided.
Economic Policy Institute's study on gender pay gap points out that college majors do have an impact on wages and economic well being in careers. The study states that women tend to choose humanities over STEM majors. And humanities often lead to lower-salaried jobs as compared to STEM fields that have higher-salaried jobs.
About Shipley Communications LLC
Shipley Communications specializes in you. It's your company, your brand and your market. We understand branding, events, public relations, logo design, verbal identity, web design, fundraising and crisis communication. At Shipley Communications, we believe that good communication is simple, honest and can change the world. We build relationships with the words we write and love to do good work for good people.