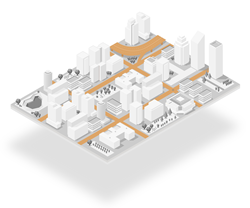 The underlying value that SensMetrics brings to these DOTs can be seen in reduced traffic delays, lowered emissions and increased safety,
BERKELEY, Calif. (PRWEB) November 28, 2017
Sensys Networks, the world's leading provider of integrated wireless traffic detection and data systems for Smart Cities, is pleased to share recent successful implementations of its flagship traffic data platform, SensMetrics. The software enables on-demand signal retiming by time-of-day, day-of-week & season and provides high-resolution data 24/7/365 before/after performance and safety metrics.
In partnership with the University of Alabama, ALDOT's focus has been on traffic signal optimization for reduced delays and more reliable travel along its corridors. Through installation of SensMetrics' automated 24x7x365 turning movement counts and performance measures, ALDOT and its partners have not only reduced travel delay, but actually quantified and monitored the resulting benefits to motorists.
Montgomery County (MD) DOT selected Sensys Networks to deliver both detection and before/after performance measures using a single platform. SensMetrics is being implemented at multiple locations. As a result, MCDOT gets actuated signal detection, travel times, traffic volumes, and performance measures to both monitor and manage traffic demands and changes. In partnership with Sensys Networks, MCDOT is using SensMetrics' 24/7/365 turning movement count to optimize timing plans and to automatically produce performance measures such as percent arrival on green, wait time, and Purdue Coordination Diagram to quantify traffic impacts after the optimization.
Beaufort County, SC was for looking for a scalable and cost-effective method to do before/after comparisons, measure seasonal changes in traffic patterns, and evaluate the impact of development projects on traffic volumes. They first installed SensMetrics at one intersection, realized the power of the platform and its flexibility and are now expanding it to ten additional intersections. These installations will more than pay for themselves if the timing improvements can remove the need for expensive lane additions at a single intersection.
In Boston, MA, Verizon and Sensys Networks have partnered to deploy SensMetrics with an integrated dashboard to show safety and mobility performance metrics as part of the city's Vision Zero initiative to reduce traffic fatalities in the city.
"Agencies across the US have begun leveraging the power of the SensMetrics suite of data analysis and optimization tools to accurately and continuously monitor and optimize the performance of traffic signals and corridors," says Amine Haoui, CEO of Sensys Networks. "The days of manually counting vehicles for a short period of time and of using that limited data to time signals are numbered. With the Sensys Networks platform 24/7/365 turn movement count data is continuously collected and analyzed, degradation in the performance of the signals automatically detected, and timing plans and offsets updated on demand to maintain near optimal performance".
For more information on SensMetrics, please visit http://www.sensysnetworks.com/sensmetrics.
About Sensys Networks
Sensys Networks improves the way people travel through cities. We deliver accurate and dependable detection data to drive reductions in urban traffic congestion for partners and public agencies around the globe. For more information see http://www.sensysnetworks.com .