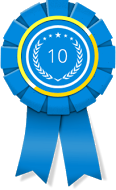 NEW YORK (PRWEB) November 28, 2017
10 Best Design recently announced the winners of its November 2017 Best eCommerce Web Design Firm Award. New York's Ruckus Marketing earned the coveted number one spot for utilizing cutting-edge technology to build and manage online stores for NYC businesses. Accolades also went to Forix Web Design of Portland, Ore. and Dotcomweavers of Paramus, New Jersey, which landed in second and third places, respectively.
Because eCommerce sites demand a unique approach to web design, agencies need to instill clients' branding with the authority required to cultivate customer confidence and build an instant rapport. This latest award from San Francisco-based 10 Best Design—a subsidiary of 10 Best Network LLC—calls attention to companies that can accomplish this.
Ruckus Marketing, in utilizing bleeding-edge tech to manage and build online stores for companies in the NYC metro area, was ranked as the best eCommerce web design firm by 10 Best Design. It made the list of best eCommerce website development businesses for the way it uses reliable web hosting services that hunt down malware and other intrusions. At the same time, the agency offers payment systems on eCommerce websites that comply with current data management and cyber-protection standards.
Landing in the respected number two spot on 10 Best Design's Best eCommerce Web Design Firms list was Forix Web Design, based in Oregon and boasting skills in eCommerce projects of all kinds. As a top eCommerce web design firm, Forix has proven itself to be a master of Magento. It was recognized for being responsible for most of North America's Magento 2 launches, all while remaining a prominent go-to Magento enterprise partner. With a seasoned staff of over 100 encompassing 60 Magento-certified individuals, Forix offers businesses with eCommerce websites a full range of service offerings.
Finally, the third-place recipient of 10 Best Design's Best eCommerce Web Design Firm awards was given to Dotcomweavers. Based in New Jersey, Dotcomweavers is a top eCommerce website development business comprised of a passionate group of eCommerce experts and other commercial operators. In operation since 2007, Dotcomweavers was recognized for its catering to a varied regional clientele base in the retail sector and its enterprise deployment tactics.
About 10 Best Design
Established in San Francisco, 10 Best Design is comprised of a team of individuals from around the country who have worked in online branding, web design and app development for a number of years, all boasting experience in Ruby on Rails, PHP, JS, CSS, HTML and more. This team also consists of experts in online branding and search engine optimization (SEO), their skills giving 10 Best Design an uncanny ability to identify the top digital agencies in a sea of average variants.
For more information, please visit http://www.10BestDesign.com.