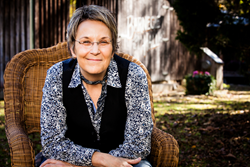 "How is "kumbaya" supposed to help me with PTSD?"
NASHVILLE, Tenn. (PRWEB) December 05, 2017
"We all could use a little mercy now…"
If you watch the news, you'll agree... truer words have never been spoken.
American folk singer-songwriter Mary Gauthier's Grammy-winning song, "Mercy Now" has truly become an anthem for our time. Now she's sharing her skills with soldiers to empower and heal wounds through song. Mary says, "Songs are here to help us, they build bridges from heart to heart."
Mary performs her soulful, poetic songs acoustically and brilliantly, on Nashville's new Americana/Roots songwriter show, "Barnegie Hall," now available for streaming and purchase on Amazon.com.
In his stunning barn-turned studio, creator and career singer/songwriter Verlon Thompson trades uncensored tales, unplugged tunes and unusual "tricks of the trade" with some of the most inspiring and influential musicians in Nashville (and the world.)
Guests include the writers of nearly 50 number one songs, recorded by legends like Blake Shelton, Garth Brooks, Brooks and Dunn, Don Williams, Dolly Parton and Brad Paisley to name a few.
This new, 13 part media program offers music of mercy, depth, flesh and blood, along with meaningful conversation and a few Music Row memories. (There are also "pickin tips" that will transform any level of guitar playing.) These are the performancesithat captivate so many visitors at the Bluebird Cafe and Nashville's many storied listening rooms
You'll hear the songs you love, by people you may not know, but will never forget.
Binge watchers tell us:
"It was so enlightening to hear the hits the way they were first born"
"This is the best music show that's not on TV...yet"
"If you don't know Verlon Thompson, prepare to be amazed."
Barnegie Hall is produced by Genuine Human Productions, a full service idea factory dedicated to real people and true stories, bringing any vision to life on screens of all size