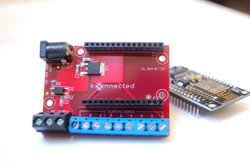 The campaign's continued success is a clear indicator that homeowners are seeking a modern, low-cost alternative to a traditional security system model full of recurring fees."
ALAMEDA, Calif. (PRWEB) November 27, 2017
The Konnected Alarm Panel, the first consumer device to connect a pre-wired alarm system to a smart home security system, has now surpassed $100,000 in presales as it enters the final three weeks of its crowdfunding campaign on Kickstarter. More than 1,000 people - including both home automation aficionados and consumers entering smart home territory for the first time - have backed the campaign, which blew through its initial $25,000 goal in just two hours.
On Cyber Monday and every day through December 17, the Konnected Alarm Panel is available for presale starting at just $69, a discount of more than 20 percent off the anticipated retail price. It's the most affordable smart home security solution on the market, requires no contract or additional fees ever, and simply makes sense for millions of people living in homes with existing wired alarm systems. As as the Executive Editor of top tech news site BGR wrote in an in-depth review, "why start from scratch if you live in a house that's already wired with sensors that are far more reliable and never need batteries?"
"It's gratifying to see what an enthusiastic response we've had, not only in the United States but from people around the world who until now have had no way to make their wired alarm systems 'smart,'" said Nate Clark, a San Francisco Bay Area software engineer who hacked into his own home's wired alarm system to create the Konnected Alarm Panel. "This is a clear message that homeowners are looking for a modern, low-cost alternative to a traditional security system model full of recurring fees and vendor lock-in."
Only 20 percent of technology project campaigns on Kickstarter are successfully funded, according to current Kickstarter statistics, and only 19 percent surpass $100,000.
The Konnected Alarm Panel seamlessly connects a home's existing wired alarm system sensors and siren to the Samsung SmartThings Hub or Home Assistant via a wireless connection. It replaces any brand of wired alarm system panel and works with hundreds of brands and models of wired alarm system sensors including door and window sensors, motion sensors, glass-break sensors, flood/leak detectors, smoke/heat detectors, and carbon monoxide detectors. Users can use the built-in app to self-monitor and automate their homes without any monthly fees or subscriptions, although third-party integrations are available for those who do want professional monitoring.
Campaign backers will receive the device and step-by-step instructions to install it into their alarm system wiring and connect it to their smart home hub, along with access to instructional videos and customer support. The Konnected Alarm Panel has an expected shipping date of February 2018.
For more information on the Konnected Alarm Panel and to become a backer, visit the campaign page on Kickstarter.