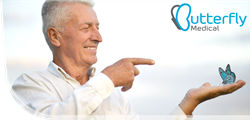 "We are proud to bring a simple, non-surgical treatment option to the millions of men worldwide afflicted by BPH. With our Butterfly Medical device, they are able to receive treatment quickly and easily in their physician's office."
Tel Aviv, Israel (PRWEB) November 28, 2017
Butterfly Medical, an Alon Medtech company, today announced that its novel medical device for non-surgical, office-based treatment of Benign Prostate Hyperplasia (BPH), has obtained European CE Mark approval.
BPH or enlarged prostate affects about 105 million men globally ̶ more than 4 out 10 men over the age of 50 [1]. Its symptoms often include problems urinating, interrupted sleep as well as sexual dysfunction that can cause loss of productivity, depression and decreased quality of life [2]. Medication is often the first-line therapy, but relief can be inadequate and temporary, with patients needing invasive surgical procedures.
Butterfly Medical's solution expands the treatment options for BPH sufferers, by providing a simple, fast and minimally invasive, in-office procedure, as an alternative to first-line drug treatment or surgery.
Butterfly Medical's innovative device is designed to dilate the prostatic urethra without surgical incision or prostate tissue removal. The Butterfly device's unique design secures tightly to the prostate tissue, preventing any chance of migration, and moves the obstructing lobes of the prostate out of the way to improve urine flow.
The procedure is performed in the comfort of the physician's office under local anesthesia. The delivery of the device can take less than 10 minutes, helping to provide instant relief and return of sexual function, with patients being able to go back to normal activities immediately. The procedure is also completely reversible, with the device easily removed, ensuring patients can benefit from any future therapy, if necessary.
Early results from clinical trials are very promising with blocked prostates successfully opened and patients expressing a high level of satisfaction.
"We are proud to bring a simple, non-surgical treatment option to the millions of men worldwide afflicted by BPH. With our Butterfly Medical device, they are able to receive treatment quickly and easily in their physician's office" said Idan Geva, CEO Butterfly Medical. "With market acceptance for our medical approach already demonstrated, our closest competitor was sold for over $1 billion, our European market approval puts us right on the map".
Chairman of Butterfly Medical and Active Chairman of Alon Medtech, Dr. Shimon Eckhouse said: "Butterfly is a great example of our approach at Alon Medtech of building successful companies with our entrepreneurs to bring innovative products to large, high growth markets. The CE approval of the Butterfly device is a very important milestone in the life of the company enabling it to access the European market in the very near future."
About Butterfly Medical
Butterfly Medical is a medical-device start-up, developing a fast, simple and minimally invasive alternative treatment to first-line medication and surgery for Benign Prostate Hyperplasia (BPH). Its innovative device can be placed in under 10 minutes, in-office, under local anesthesia, without the need for hospitalization or general anesthesia. Clinical trials show early promising results with further studies starting in leading medical centers in Europe.
Visit http://www.butterfly-medical.com for more information.
References:
[1] Prostate Cancer UK (2013). Enlarged prostate. A guide to diagnosis and treatment.
[2] Speakman M. et al. (2015) Burden of male lower urinary tract symptoms (LUTS) suggestive of benign prostatic hyperplasia (BPH) - focus on the UK. BJU Int. Apr;115(4):508-19.