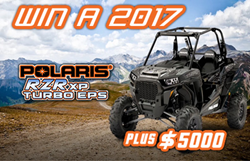 PALM HARBOR, FL (PRWEB) November 29, 2017
Healing Heroes Network (HealingHeroes.org) is excited to announce the lucky winner of the 2017 "Win A Polaris RZR XP Turbo EPS PLUS $5,000" Giveaway. Nathan Korstad of Eugene, Oregon, is the Giveaway winner and the proud new owner of a 2017 Polaris RZR XP Turbo EPS and $5,000 cash.
Our winner, Nathan, could not believe his luck exclaiming, "This is the coolest thing ever." Furthermore, Nathan already has plans for his new prize adding, "There's an event here on the west coast, called 'UTV Takeover' and we have a contest called 'Huckfest'. I plan on going 150-plus feet."
Hero Giveaways (HeroGiveaways.com) works with Healing Heroes Network is a 501(c)3 charitable organization, based in Palm Harbor, FL. Healing Heroes Network provides financial assistance for quality care and treatment therapies for military personnel injured in the line of duty in Iraq or Afghanistan, on or after September 11, 2001.
The 2017 Giveaway began on April 25, 2017 and ended on November 8, 2017. Visit HeroGiveaways.com for information about our next big Giveaway!
# # #
If you would like more information about this topic, please contact Stacey Spiegel at 727-781-4673 or email at info(at)healingheroes(dot)org.