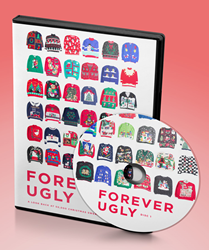 This is a visual representation of how far we've gone down the ugly sweater rabbit hole
MINNEAPOLIS (PRWEB) November 30, 2017
Ragstock, the new and vintage clothing retailer, has created the world's longest ugly Christmas sweater movie. "Forever Ugly: A Look Back At 50,000 Christmas Sweaters" has a runtime of four hours and thirty-seven minutes.
It's an absurd ugly Christmas marathon, starring fifty thousand vintage sweaters that Ragstock has photographed over the past seven years. The photos appear in rapid succession, with each sweater shown on screen for less than half a second. There's no plot, and the supporting cast consists of a mannequin. Festive numbers pop up to mark each 1,000th sweater, like signposts along this long, tacky trail. Whether viewers find it funny or mind numbing will depend largely on their feelings about the ugly Christmas sweater trend.
Ragstock began selling Christmas sweaters online in 2010, when the trend was just gaining steam. Because these are one of a kind vintage sweaters, each garment has to be individually photographed and catalogued. It's a laborious process. As demand for ugly Christmas sweaters grew, Ragstock worked to keep up. At one point, they had a team of four employees working full time to get sweaters online, resulting in an inventory of over 25,000 pieces in stock.
"We've always had the biggest selection of ugly Christmas sweaters" says Libby Finn, President of Ragstock. "When we realized our 50,000th sweater was coming up, we wanted to do something fun to commemorate it."
Why a movie?
"It's hard to wrap your head around a number like fifty thousand." Finn says. "This is a visual representation of how far we've gone down the ugly sweater rabbit hole. It makes for a great background video if you're tired of the yule log."
"Forever Ugly: A Look Back At 50,000 Christmas Sweaters" is now streaming on YouTube. For the diehard ugly sweater fans -- or those in need of a gag gift -- a special edition 3-disc DVD set is available for preorder at Ragstock.com