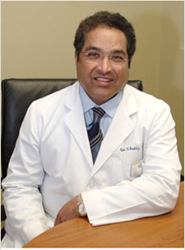 "When patients choose a small cohesive group offering a diverse range of talent and skill sets, the patient gets the benefit of the entire team, not just one doctor," notes Reddy. "This certainly has a significant impact on outcomes in the delivery of health care and the management of patients."
HOUSTON (PRWEB) December 05, 2017
Dr. Gurunath Reddy is a passionate advocate for the concept of collaborative care.
He has been working tirelessly, through his affiliation with various associations, including the Harris County Medical Society, to educate other physicians on this and other issues which might lead to improved outcomes for every patient.
25 years ago, Reddy founded Digestive and Liver Disease Consultants around this very model. The practice's core operating philosophy is simple: medicine is a team endeavor, and physicians should strive to be interdependent rather than independent.
This collaborative care model has allowed the practice to pursue a course of evidence-based medicine while providing a ready source of robust peer review for each doctor involved. Physicians in a group can discuss and review difficult case scenarios while working on quality diagnostic algorithms.
The practice of medicine now advances at a rapid rate. Multiple databases publish 30,000 new articles every month. It is impossible for any single physician to keep up. Specialization has become the only defense in an increasingly complex industry, a fact which means specialists must work together if they're going to achieve a complete picture of patient health.
"When patients choose a small cohesive group offering a diverse range of talent and skill sets, the patient gets the benefit of the entire team, not just one doctor," notes Reddy. "This certainly has a significant impact on outcomes in the delivery of health care and the management of patients."
Digestive and Liver Disease Consultants has won multiple awards, both for the individual physicians practicing there, and for the practice itself. The group's high success rate when dealing with digestive and liver conditions speaks to the success of the team-based model.
Meanwhile, Reddy himself continues to help patients who need help from other disciplines by spreading the word about the benefits of this kind of care. "I'll keep on it till collaborative care is the rule, rather than the exception. I'm too passionate about the well-being of patients throughout Harris and Montgomery County and beyond to do anything less."
ABOUT DR. GURUNATH REDDY
Dr. Gurunath Reddy, MD, FACP, FACG, FASGE, AGAF is widely recognized for his endoscopic experience, clinical acumen, and his teaching. He has spearheaded policy and quality improvement efforts throughout the industry. He has been recognized as one of Houston's top doctors by H Texas Magazine from 2006-2017, and by Houstonian Magazine from 2013-2017. The Consumer's Research Council named him one of America's Top Doctors in 2006.
Reddy has served as Chair of Quality Assurance and Quality Improvement, Pharmacy and Therapeutics, Continuing Medical Education, Endoscopy, and Medical Staff By Laws. The Houston Northwest Medical Center elected him as Chief of Staff, as did Northeast Medical Center Memorial Hermann North East. He also served on the boards of both hospitals. He is one of the founding board members of Kingwood Medical Center (HCA). HE served on the Board of the Texas Gulf Coast Gastrointestinal Society and Advisory Board of the Southeast Chapter of the American Liver Foundation. He served as President of the Harris County Medical Society(HCMS). He served on the Board of Medical Legislation and as President of Houston Academy of Medicine.
ABOUT DIGESTIVE AND LIVER DISEASE CONSULTANTS, PA
Digestive and Liver Disease Consultants, PA has been providing gastrointestinal and liver care to patients in Harris and Montgomery Counties since 1988. It is home to an award-winning and highly acclaimed group of board-certified gastroenterologists with a combined 60 years of experience in their field. For more information visit http://www.txgidocs.com.