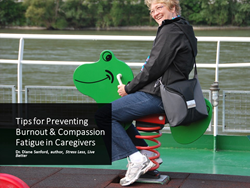 Reducing stress for family caregivers is key to improving and maintaining their health
AMARILLO, Texas (PRWEB) November 29, 2017
November is both National Family Caregivers Month and National Alzheimer's Awareness month, a time to recognize the millions of Americans caring for family members afflicted by serious illnesses. Caring for family members who are ill can cause stress to those who provider the care--a phenomenon known as caregiver stress. Researchers have found that caregiver stress is related to a wide-range of health problems for the caregivers, such as heart disease, diabetes, sleep problems, and chronic fatigue. In one study, caregivers actually died at a younger age than those not providing family care. Reducing stress for these caregivers is key.
Praeclarus Press offers resources that specifically address the needs of family caregivers and help them reduce their stress. The first resource is Vicki Tapia's book, Somebody Stole My Iron. In this book, Tapia describes her journey caring for two parents with dementia, the lessons she learned, and what she did to cope. Family members caring for someone with dementia can often feel isolated and alone. Somebody Stole My Iron helps break that isolation and provides specific suggestions on how to walk through this heart-breaking life experience. Tapia lives in Billings, Montana.
Mindfulness is a proven stress-reduction technique and can help family caregivers lower their stress levels. In honor of National Family Caregivers Month, Praeclarus Press offers a new podcast from St. Louis psychotherapist, Dr. Diane Sanford on using mindfulness to cope with caregiver stress. Dr. Sanford's book, Stress Less, Live Better, also offers many practical ways that readers can incorporate mindfulness into their everyday lives. She also offers a series of podcasts on lowering stress including a quick stress-reducing exercise called "The Comfort Stone."
Praeclarus Press is a small press in Amarillo Texas that is committed to providing resources that change women's lives. Founded by health psychologist, Dr. Kathleen Kendall-Tackett, Praeclaus Press specializes in women's health. To learn more about resources available from Praeclarus Press, please visit http://www.PraeclarusPress.com.