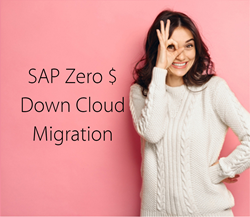 The Zero Dollar Down Monthly Subscription Model helps customers to overcome their budgeting and resource challenges
PRINCETON, N.J. (PRWEB) November 28, 2017
Wharfedale Technologies Inc. (WFT Cloud) announces a new service offering at AWS re:Invent 2017 which enables customers to migrate their SAP® software landscapes to AWS cloud with minimal down time and zero upfront investment.
Being the first SAP-certified cloud service provider and an AWS partner, Wharfedale introduces the Zero Dollar Down Monthly Subscription Model for customers who wish to migrate to AWS cloud to overcome their budgeting and resource challenges.
This offering includes the following:

Analyze customer's cloud infrastructure needs, SAP software and data upgrade requirements, and regulatory compliance.
Help choose the right deployment model (private, public and hybrid) that meets the business requirements.
Execute the migration with minimal downtime, and perform cloud management for a monthly subscription.
"Our Zero Dollar Down Cloud Transformation Solution allows our SAP customers to scale their infrastructure seamlessly as their business grows," said Praveen Gadura, Vice President of Operations at Wharfedale. "Our solution utilizes SAP certified AWS EC2 instances residing in a secure virtual private cloud in a highly available environment spanning multiple availability zones. Other services utilized include amazon simple storage service for storage of files and backups and load balancers. This enables the customers to be cost-effective and focus on running their business."
Wharfedale has the expertise and flexibility to manage demanding workloads running in SAP solutions in the cloud, which can be performed on demand and rapidly. Wharfedale's automation allows resources to be ramped up or down as needed. Wharfedale is among the first to implement production and non-production servers (250+) running SAP software on a public cloud.
For more information on Zero Dollar Down Cloud Transformation Solution, visit http://www.wftcloud.com.
About Wharfedale Technologies Inc. 
Wharfedale Technologies Inc. (WFT Cloud) is a leading technology consulting firm specializing in infrastructure integrations and cloud services in support of SAP solutions, as well as private/public hybrid cloud solutions. WFT is also an SAP-certified provider of cloud and hosting services and offers solutions for high availability, disaster recovery, advanced sizing for virtualization, backup/recovery integration, systems refresh automation and landscape optimization.
For more information on Wharfedale and WFT Cloud services, please visit http://www.WFTCloud.com or call us at (888) 533-3113.
# # #
SAP and other SAP products and services mentioned herein as well as their respective logos are trademarks or registered trademarks of SAP SE (or an SAP affiliate company) in Germany and other countries. See http://www.sap.com/corporate-en/legal/copyright/index.epx for additional trademark information and notices. All other product and service names mentioned are the trademarks of their respective companies.