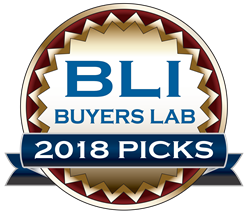 FAIRFIELD, N.J. (PRWEB) November 28, 2017
Keypoint Intelligence - Buyers Lab (BLI), the world's leading independent evaluator of document imaging software, hardware, and services, today announced its Pick and Outstanding Achievement award recipients in the Document Imaging Software category. These coveted honors recognize the most impressive solutions evaluated by BLI during the prior 12-month test cycle.
BLI's 2018 Document Imaging Software awards go to the following exceptional solutions*:
ALARIS INFO INPUT EXPRESS
Outstanding Achievement in Innovation
CANON THEREFORE ONLINE SMB
Outstanding SMB Information Management & Workflow Solution
CANON UNIFLOW 2018 LTS
Outstanding Enterprise Output & Scan Management Solution
I.R.I.S CORP. (A CANON COMPANY) IRISPOWERSCAN 10
Outstanding Scan Capture & Processing Solution
CORTADO CORPORATE SERVER 8
Outstanding Mobile Device Management Solution
KONICA MINOLTA DOCUMENT NAVIGATOR SERVER V4
Outstanding Document Workflow Solution
LEXMARK TESTING ASSISTANT
Outstanding Education Solution
LRS CIRRATO ONE
Outstanding Enterprise Print Environment Management Solution
NUANCE POWER PDF ADVANCED 2
Outstanding PDF Creation Solution
PAPERCUT 17
Outstanding Cost Accounting & Cost Control Solution
PRINTERLOGIC CLOUD
Outstanding SMB Print Environment Management Solution
RICOH STREAMLINE NX V3
Outstanding Fleet & Output Management Solution
FOLLOWME BY RINGDALE (VERSION 6.2)
Outstanding Data Loss Prevention Solution
XEROX APP GALLERY
Outstanding MFP App Ecosystem

NOT ALL PRODUCTS ARE SOLD IN ALL REGIONS.
For all the details on why these software solutions took home the hardware, please read the full press release here.
ABOUT KEYPOINT INTELLIGENCE - BUYERS LAB
Keypoint Intelligence is a one-stop shop for the digital imaging industry. With our unparalleled tools and unmatched depth of knowledge, we cut through the noise of data to offer clients the unbiased insights and responsive tools they need in those mission-critical moments that define their products and empower their sales.
For over 50 years, Buyers Lab has been the global document imaging industry's resource for unbiased and reliable information, test data, and competitive selling tools. What started out as a consumer-based publication about office equipment has become an all-encompassing industry resource. Buyers Lab evolves in tandem with the ever-changing landscape of document imaging solutions, constantly updating our methods, expanding our offerings, and tracking cutting-edge developments.
ABOUT BUYERS LAB SOFTWARE PICK AWARDS
Buyers Lab Document Imaging Software Picks stand alone in the industry and are hard-earned awards as they are based on rigorous testing, including evaluation of key attributes such as features, usability, and value. Each product that passes our lab test earns Buyers Lab's Platinum, Gold, Silver, or Bronze rating, with the best performers qualifying as Pick contenders.
ABOUT BUYERS LAB OUTSTANDING ACHIEVEMENT AWARDS
Buyers Lab Outstanding Achievement awards acknowledge products or capabilities that stand out for attributes such as innovation, usefulness, or value.
CONTACT
Deanna Flanick
+1 973-797-2145
deanna.flanick(at)keypointintelligence.com