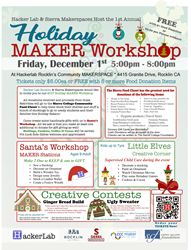 Makers will 'make one and donate one;' donations will go to Sierra College Community Food Closet.
Rocklin CA (PRWEB) November 29, 2017
Sierra College Makerspaces and Hacker Lab are hosting a Holiday Maker Workshop on Friday, December 1 from 5 PM to 8 PM at Hacker Lab powered by Sierra College, located at 4415 Granite Dr., Rocklin CA.
Participants will "make one and donate one," producing items such as ornaments, toys, jewelry, stockings, wallets and wreaths. Donations will go to Sierra College Community Food Closet. Children up to age 7 will decorate stockings, paint ornaments and play reindeer games in the supervised Little Elves Creative Corner childcare while older children and adults rotate through Maker Stations of their choice.
The holiday event includes contests for making "outside the box" ginger bread houses and wearing ugly sweaters. Participants are invited to bring pot luck side dishes to supplement hot dogs, cookies, coffee and cocoa being provided.
Entry tickets will be provided with a donation of at least five cans of food per person or $5 (cash accepted or write checks to the Sierra College Foundation). When you RSVP to reserve a ticket, you can and see lists of suggested items to donate to the Sierra College Community Food Closet.
For more information, contact Dominic Gutierrez at (916) 913-2708 or dominic(at)SierraMakerspaces.com and go to the the Sierra Makerspaces website. This educational makerspace is participating in the statewide CCC Maker initiative, managed by Sierra College, and supported by the California Community College Chancellor's Office Workforce Development Division under the Doing What MATTERS for Jobs and the Economy framework.
About Sierra College
Sierra College District is rising to meet the needs of our community, serving 3200 square miles of Northern California with campuses in Roseville, Rocklin, Grass Valley and Truckee. With over 120 degree and certificate programs, Sierra College is Northern California's top community college for transfers to four-year universities and offers career/technical training and classes for upgrading job skills. Sierra graduates can be found in businesses and industries throughout the region. More information at http://www.sierracollege.edu.